NanoString is pioneering the field of 3D Biology to accelerate the rate of research and maximize the amount of information that can be generated from a single sample. 3D Biology™ Technology is the ability to analyze combinations of RNA and protein simultaneously in a single experiment. Based on the NanoString digital barcode technology and designed for flexibility, the nCounter Vantage 3D Portfolio of assays provides a deeper view of cancer and immune biology and can be mixed and matched to answer a wide variety of biological questions. Vantage 3D Workflow
The nCounter Vantage 3D portfolio is designed for flexibility. Each panel can also be run as a stand-alone assay so you can generate the data you need. Select the right targeted panels for each analyte type, and detect and analyze them all at once with the nCounter Analysis System and nSolver™ software.

Vantage 3D Portfolio
With the Vantage 3D portfolio, you can mix and match content based on your research needs with multi-analyte assays for Immuno-Oncology and Solid and Heme Tumor Profiling.
Find the gene expression panel for your research with easy to use panel pro
Find Your Panel
Vantage 3D RNA Panels
Vantage 3D Fusion Panels
Vantage 3D Protein Panels
Panel Compatibility and Customization
Each panel can be run as a stand-alone assay with customization available. Up to 24 user- defined genes can be added to any Vantage 3D RNA panel, including fusion panels. Up to five custom protein targets can be added to any Vantage 3D Protein panel using the Protein Barcoding Service.
Unsure if you can perform your desired experiment in a single lane? The table below provides an overview of analyte compatibility: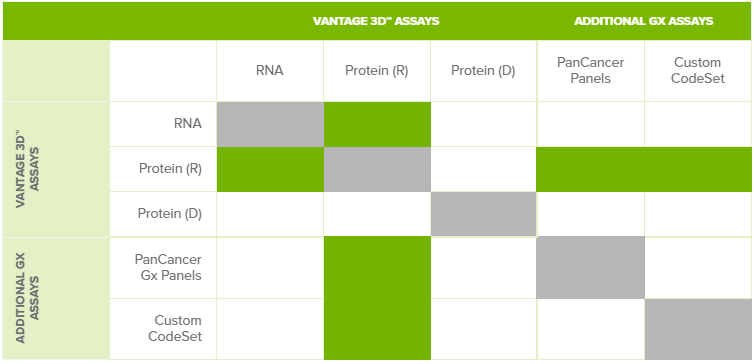 Have questions or simply want to learn more?
Contact our helpful experts and we'll be in touch soon.
Contact Us