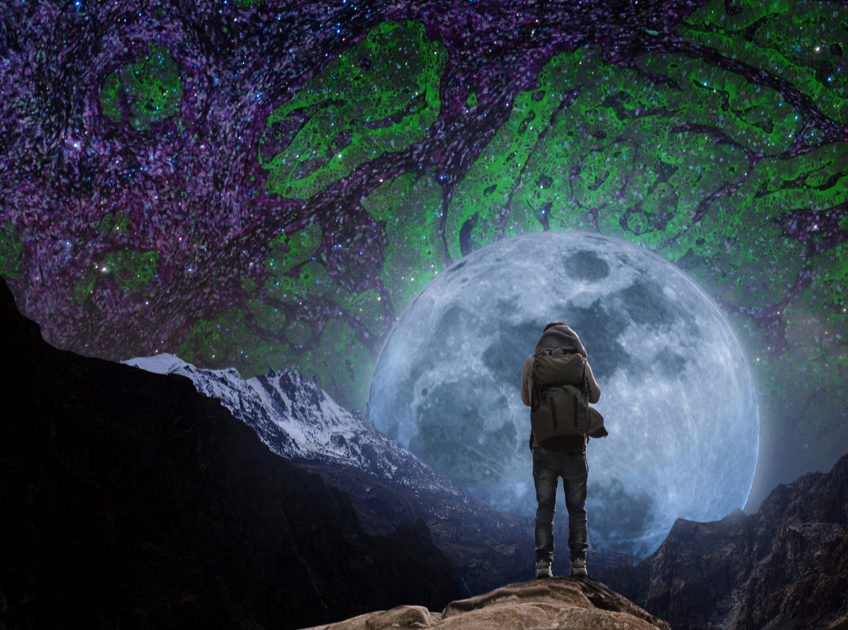 NanoString WTA GeoMx Grant in the Nordics
Grant to spatially profile the Whole Transcriptome
Imagine the possibilities if you had access to a tool that "brings to life" comprehensive molecular analysis of heterogenous tissue, with flexibility, precision and sensitivity!
The GeoMx® Digital Spatial Profiler platform was designed with the most challenging tissue types in mind, delivering optimal performance with clinical FFPE samples. GeoMx® DSP brings a multi-analyte solution, to bridge the gap between basic and translational research. State of the art adaptive optics, deliver market leading flexibility to enable researchers to accurately define the regions of their biology to drive discovery with nano-scale precision.
Ask the questions you really want to address
Revolutionise your understanding of tissue heterogeneity in development and disease with highly tunable regional selection.
Whole transcriptome profiling of cell types in situ without the need to disrupt or destroy tissue samples. Some examples:

Analyse cells proximal to blood vessels versus those that are distal
Tumor-inflitrating lymphocytes (TILs) versus excluded
Cells at the tumour:stroma boundary
Develop new combinational therapeutic strategies based on data driven molecular analysis of tissue heterogeneity in precious clinical samples.
Define new biomarkers and gene signatures associated with discrete regions or cell populations in the tissue.
Flexible input. Analyse whole tissue slices or tissue microarrays.
Apply from now until Friday 13th January, 2023
Grant Details
Open to all researchers across Denmark, Norway, Sweden & Finland.
NanoString will award the most impactful proposal with the ability to discover spatial biomarkers, study tissue heterogeneity and spatial gene expression, or study cell-type specific questions using the GeoMx® Whole Transcriptome Atlas (WTA).
Comprehensive, unbiased RNA content for human and mouse: Explore any target and any pathway in biological regions of interest. The GeoMx Whole Transcriptome Atlas (WTA) provides an unbiased view of 18,000+ (Human) or 21,0000+ (Mouse) protein-coding genes.
Sample types: FFPE, OCT embedded and Fresh Frozen.
NanoString standard morphology markers or H&E staining: Fluorescently-labeled morphology markers are used for the visualization of tissue morphology, the selection of regions of interest (ROI), and the segmentation of ROIs into distinct biological compartments, or areas of interest (AOI). The winner will receive a pre-agreed number of slides and AOI events for the GeoMx WTA Assay, to be agreed upon following project discussions with NanoString.
Data analysis support: The GeoMx DSP data center provides an end-to-end software solution from image acquisition and region of interest selection to a fully integrated data analysis experience. NanoString experts will show the awardees how to use the GeoMx DSP Data Center.
Applications must be submitted before Midnight CET on 13th January, 2023.
Need some help? Contact us to speak to our in-house experts before you submit your project application.
About the Core Facility where the Grant will be run
The winning project will be run at the Department of Molecular Medicine (MOMA), Aarhus University Hospital, Denmark



MOMA houses the National Whole Genome Sequencing Center West under the Danish National Genome Center and provides molecular diagnostic service for national and international hospitals.
MOMA collaborates with leading laboratories worldwide, especially in clinical translational studies and houses a wide range of state-of-the-art laboratory equipment.
Applications for this grant are now closed.
Terms & Conditions
Publication of Project Results:
All grant submissions are confidential to the individual submitter and will not be published or distributed, provided, however, that NanoString may share them with their own staff and distributors who will not disclose to third party. Upon project completion, the grant winner agrees to participate in at least one of the following activities relating to the specific project, with specific details of the applicable activity to be mutually agreed upon in good faith by NanoString and each winner: webinar, case study, blog post, or poster presentation. Each winner agrees that NanoString shall have the right to publicly announce the winner's name and research topic and use anonymized data from the winner's project in application notes including in marketing materials and seminars.
Eligibility and Requirements:
Applicants must be actively enrolled or employed at an institution or company in Denmark, Norway, Sweden or Finland in a capacity in which they perform life science research and have the ability to ship and analyze samples within 45 days of award notification. The winner must be age 18 or older. Members of the immediate families of NanoString employees and directors, and/or persons living in the same household as such persons, are ineligible to participate in this grant program. The grant winner's samples will be run with 2 slides, with up to 12 Regions of Interest (ROIs), and 24 Areas of Illumination (AOI) per slide, to be mutually agreed upon, to be used with the GeoMx® Whole Transcriptome Atlas Assay run through the Department of Molecular Medicine MOMA at Aarhus University Hospital, Denmark. NanoString standard morphology markers or H&E staining will be used for Region of Interest (ROI) selection. NanoString experts will show the winners how to use the GeoMx DSP Data Center.
Miscellaneous:
By submitting a grant application, each applicant agrees that NanoString may use his or her name, abstract title, for marketing purposes. All grant applicants agree that NanoString may process the personal data he or she provides as part of application, including sharing such data with NanoString's partners, collaborators and other third parties who are obligated to keep the data confidential, and in accordance with NanoString's privacy policies available at www.nanostring.com/privacy.
The grant award winner may be required to sign and return an affidavit of eligibility, release of liability, a publicity release, and other appropriate legal documentation reasonably requested by NanoString. No substitution or transfer of the awarded grant is allowed, except as otherwise permitted by NanoString. The award winner is responsible for any local tax liability (city, state, or federal) occurred by winning and accepting the award. If, for any reason, the grant program may not run as planned for any causes beyond the reasonable control of NanoString, then NanoString reserves the right in its sole discretion to cancel, terminate, modify or suspend the grant program. NanoString has not made any warranty, representation, or guarantee, express or implied, with respect to the grant award and related services, including, without limitation, their quality or fitness for a particular purpose. This program is void where prohibited or otherwise restricted by law. These terms and conditions and any action related to this grant program will be governed by the laws of the State of Washington without regard to or application of its conflict of law provisions or your state or country of residence. All claims, legal proceedings or litigation arising in connection with these terms and conditions and this grant program will be brought solely in the federal or state courts located in Seattle, Washington, and all applicants consent to the jurisdiction of and venue in such courts and waive any objection as to inconvenient forum. By participating in this grant program, each applicant unconditionally accepts and agrees to comply with and abide by these terms and conditions.
For Research Use Only. Not for use in diagnostic procedures.