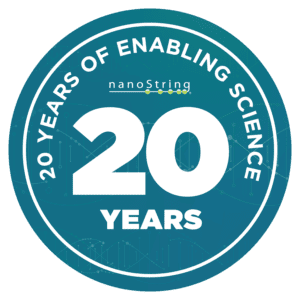 2023 is an extraordinary year for NanoString. This year we celebrate our twentieth anniversary as a life sciences company!
Determination to improve the human condition is what sparked our founders in 2003. Twenty years later, we are as passionate as ever about meeting that goal.
We are proud to mark this historic milestone, and we invite you to join us. We're looking back at what we've accomplished over two decades with our customers and scientific partners. We are also looking ahead as we imagine what scientific frontiers and molecular challenges we might solve next.
As the pioneer and the longest-serving company in spatial biology, NanoString has enabled thousands of scientists worldwide to drive scientific innovation to a new level. We've helped them see molecular interactions in three dimensions with our powerful systems, the nCounter® Analysis System, the GeoMx® Digital Spatial Profiler (DSP), and the CosMx™ Spatial Molecular Imager (SMI) platform.
Our work has brought vivid imagery to multiomic gene and protein expression in the natural context of tissue structure.
We imagine ourselves as the reliable lab partner customers turn to again and again to advance vital scientific studies, unlocking the complex biology behind health and disease.
Scientists who know us know NanoString is much more than the sum of its innovative products. We're celebrating twenty years of innovation because of the dedication and brilliance of our employees, the team members who live our values every day – ambition, grit, ingenuity, authenticity, and service to customers.
We're grateful for our loyal employees and for you, our customers, and our scientific partners. Join us as we celebrate twenty years of innovation!
20 Years, 20 Wins
01:
Digital Molecular Barcoding
NanoString developed a unique digital molecular barcoding technology that provides precise and accurate quantification of individual RNA molecules.
02:
Development of the nCounter Analysis System
NanoString Technologies developed the nCounter Analysis System, a highly sensitive and flexible platform for measuring and analyzing gene expression and protein abundance.
03:
RNA Expression Profiling
The nCounter system enabled highly multiplexed analysis of RNA expression in FFPE samples allowing researchers to measure the expression levels of hundreds of genes simultaneously from a single sample. The RNA extracted is measured directly as digital counts.
04:
nCounter Enhancements
The nCounter capabilities were expanded to measure miRNA and protein and went from custom to off-the-shelf panels to increase user convenience.
05:
Collaboration with the Cancer Genome Atlas
NanoString collaborated with TCGA to develop and validate gene expression assays that helped characterize molecular subtypes of various cancers.
06:
Molecular Diagnostics
NanoString has made significant advancements in the field of molecular diagnostics, including the development of diagnostic assays for breast cancer, lymphoma, and other diseases.
07:
Digital Spatial Profiling
NanoString introduced the GeoMx Digital Spatial Profiler, a platform that enables highly multiplexed, spatially resolved gene expression analysis in tissues, providing insights into cellular interactions and disease mechanisms.
08:
Cancer Biomarker Discovery
NanoString's technologies have been instrumental in identifying and validating novel cancer biomarkers, enabling researchers to better understand the underlying mechanisms of cancer and develop targeted therapies.
09:
Immune Profiling
NanoString's technologies have been used for immune profiling, allowing researchers to analyze immune cell populations, immune-related gene expression, and immune response signatures in various diseases, including cancer and autoimmune disorders
10:
Immunotherapy Response Prediction
NanoString's gene expression assays have been used to develop predictive signatures for immunotherapy response, helping to personalize treatment options for cancer patients.
11:
Spatial Single-Cell Analysis
CosMx SMI has been developed for single-cell analysis, allowing researchers to study multiomics profiles at the individual cell level, providing insights into cellular heterogeneity and cell-to-cell interactions.
12:
Neurodegenerative Disease Research
NanoString's technologies have been applied to the study of neurodegenerative diseases, such as Alzheimer's and Parkinson's, facilitating the discovery of potential biomarkers and therapeutic targets.
13:
Infectious Disease Research
NanoString's platforms have been utilized in infectious disease research, including studies on viral infections including Sar-Cov 2, bacterial pathogens, and host immune responses.
14:
Drug Discovery and Development
NanoString's technology has been used in drug discovery and development, assisting in target identification, biomarker validation, and assessing drug response.
15:
Biomarker Validation in Clinical Trials
NanoString's assays have been employed in clinical trials to validate and assess the predictive value of biomarkers for patient stratification and response to therapies.
16:
Spatial Atlas of Human Anatomy
NanoString and Weill Cornell Medicine launched SAHA, creating multiomic spatial maps of healthy human tissues from 30 organs. 250 million cells will be mapped using GeoMx DSP and CosMx SMI. SAHA will be a benchmark reference for spatial precision medicine.
17:
Whole Transcriptome Atlas
Nanostring introduced the GeoMx Human Whole Transcriptome Atlas, designed for comprehensive spatial RNA analysis of the full transcriptome, in situ, on FFPE and other types of tissues.
18:
Spatial Organ Atlas
We launched the Spatial Organ Atlas to give examples of spatial data followed up by cell book for GeoMx to give examples of normal staining – enabling users to understand what their normal samples should look like.
19:
AtoMx Spatial Informatics Platform
AtoMx is the only cloud-based, integrated informatics platform for spatial biology that enables global data sharing and collaboration.
20:
Spatial Proteogenomics
GeoMX first system to offer simultaneous high plex RNA and Protein analysis at spatial level, followed by CosMx at the single cell level.