Unlock the Universe of Spatial Biology with AtoMx™ SIP
Introducing AtoMx™ Spatial Informatics Platform (SIP), the only cloud-based, fully-integrated informatics platform for spatial biology.​
No coding experience is required to use AtoMx SIP. Researchers can analyze and visualize spatial multiomics data with ease while utilizing NanoString-configured analysis modules and pipelines. For researchers with computational experience, custom analysis modules and pipelines can effortlessly be created and executed all while leveraging the compute power of the cloud.​
With advanced analytics enabling global data sharing and collaboration, ​AtoMx SIP helps researchers analyze large amounts of spatial multiomics data anytime, anywhere.​
AtoMx Makes It All Possible
Spatial Biology At Your Fingertips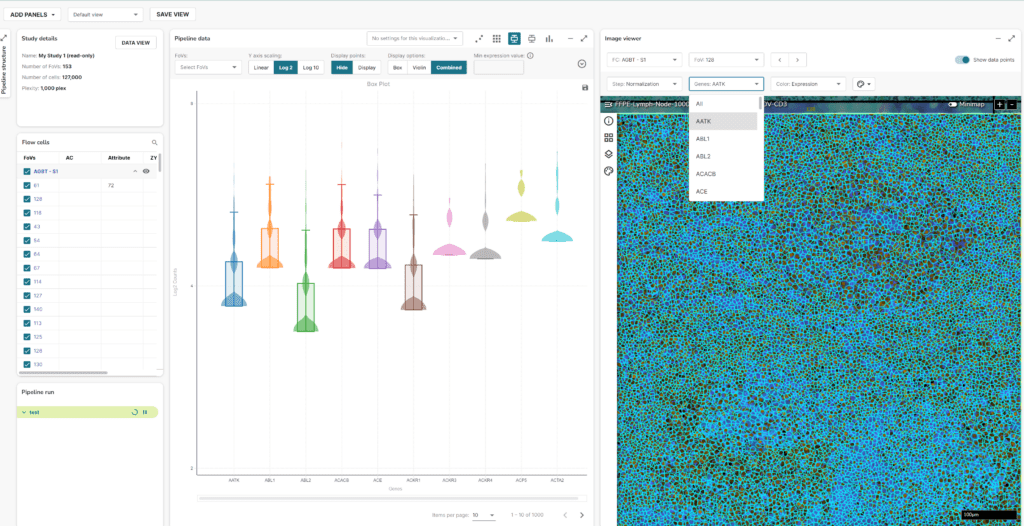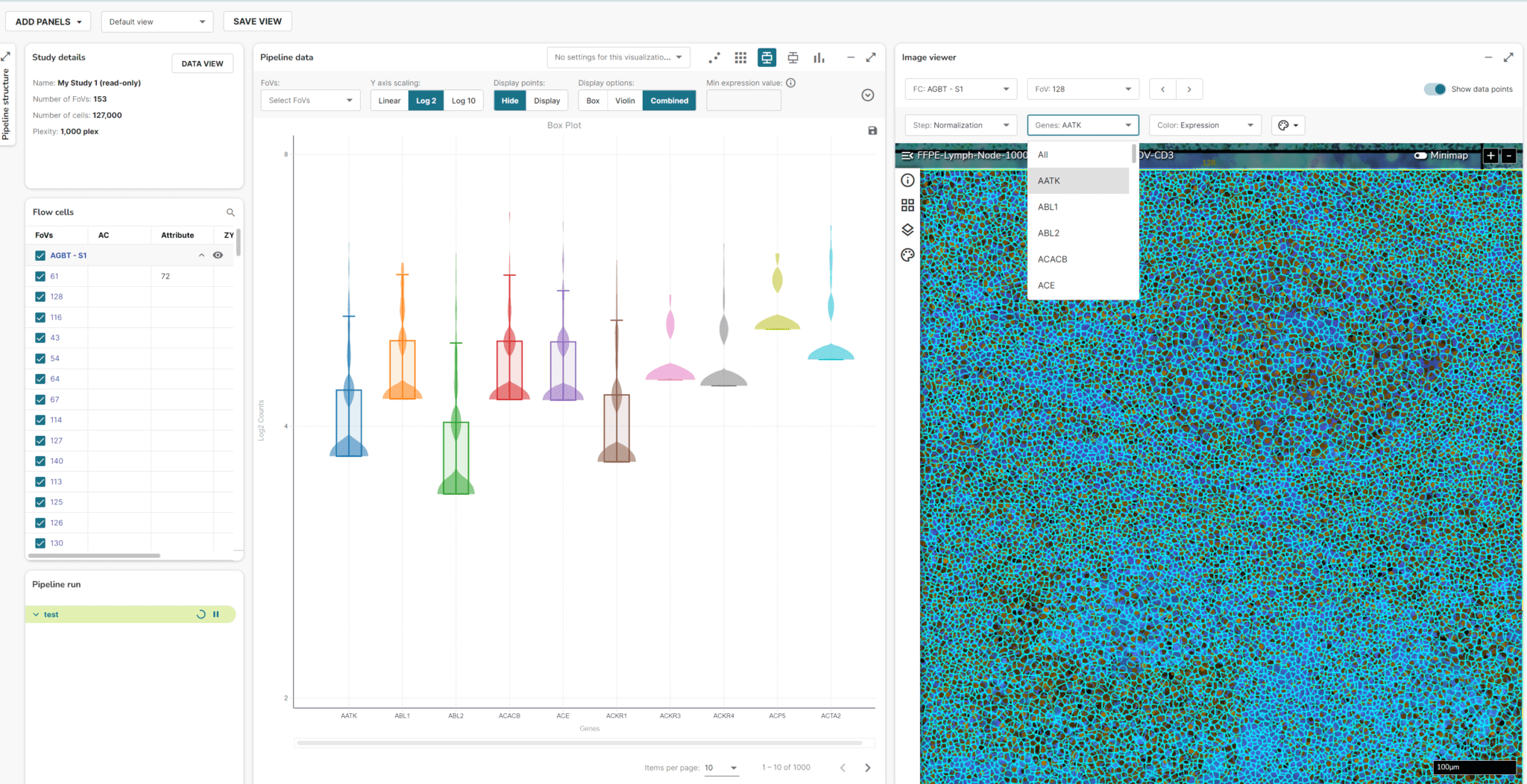 Obtain comprehensive insights from your CosMx™ SMI spatial multiomics data with the click of a button. ​​
AtoMx SIP enables users to perform image analysis & data visualization, utilize scalable cloud compute and storage, and collaborate globally with researchers across the globe.​
What's more, blazing-fast compute speeds of the platform significantly decrease analysis time, allowing researchers to focus on obtaining insights from spatial multiomics data across oncology, immunology, neuroscience, and other research applications faster than previously possible.​​
Key Features of AtoMx
NanoString Spatial Platform Integration
Stream image and count files seamlessly from CosMx SMI into AtoMx SIP​.
Data Management
Securely store, manage, and collaborate spatial multiomics data around the globe​.
Analyze & Visualize Spatial Data
Perform secondary analysis and tertiary analysis with preconfigured modules and data analysis pipelines.
Custom Analysis
Edit pre-built modules and pipelines OR build custom modules and pipelines to analyze spatial data to fit your needs.*
Security & Compliance
Single Sign-On authentication backed by standard-compliant data encryption for data-in-transit and data-at-rest through Amazon Web Services.
* R & Python scripts supported for CosMx​​
Frequently Asked Questions
What is SaaS (Software as a Service)? 
SaaS is a complete service and a way to distribute software applications via the internet as a service. SaaS applications are web-based which means that they are available on-demand, anytime/anywhere, and typically require subscriptions to access all features.  
 
These applications are not installed or run locally on someone's computer in a lab. Instead, they run on the cloud computing servers such as Amazon Web Services (AWS), Microsoft Azure, and Google Cloud. 
What is AtoMx Spatial Informatics Platform (AtoMx SIP)?
AtoMx is an integrated, cloud computing platform for spatial biology that can be used to visualize, analyze, and share data from CosMx™ Spatial Molecular Imager (SMI). 

AtoMx is offered as a Software-as-a-Service (SaaS) product that will allow unlimited scalability with on-demand data storage and compute resources. Data can be shared seamlessly between users across organizations and geographical boundaries. Standardized data formats for the platforms will help enable true data sharing to enable global research collaboration. 

Additionally, customers will have the ability to use preset analysis modules or create custom modules in R & python. Artificial intelligence (AI) and machine learning (ML) capabilities will also be enabled in future software versions. 
Why is AtoMx SIP delivered as a SaaS application?
Providing AtoMx as a SaaS application allows NanoString customers to analyze, store, and compute data on the cloud as opposed to hosting analysis in-house or locally on someone's computer hard drive. The AtoMx platform runs on an industry leading life science cloud computing service. 
 
The SaaS delivery model enables the NanoString Software Team to seamlessly push new software features and services in the future without the need for any manual software updates. Additionally, it allows easy access to AtoMx for those customers who do not own a NanoString spatial instrument via a subscription model without having to purchase individual software licenses. 
Does AtoMx SIP allow users the ability to develop custom scripts with open-source programming languages? 
Yes. At the commercial launch of AtoMx, users will be able to develop custom scripts using R and Python open-source scripting languages. Additionally, users will be able to modify preconfigured modules (provided by NanoString) with R and Python. 
How secure is the AtoMx platform? 
AtoMx supports a high level of security and compliance standards as part of the standard company policy. Additionally, with AtoMx being hosted on AWS servers, the platform benefits from AWS's high level of security standards and compliance-ready architecture including PCI-DSS, HIPAA/HITECH, FedRAMP, GDPR, FIPS 140-2, and NIST 800-171. These certifications help satisfy compliance requirements for virtually every regulatory agency around the globe.
When will AtoMx be commercially available?
AtoMx SIP is now available. 
What is the expected pricing for AtoMx SIP? 
AtoMx SIP is complimentary for the first year after the purchase of a CosMx SMI instrument. Please contact your local sales team for pricing information after the first year.