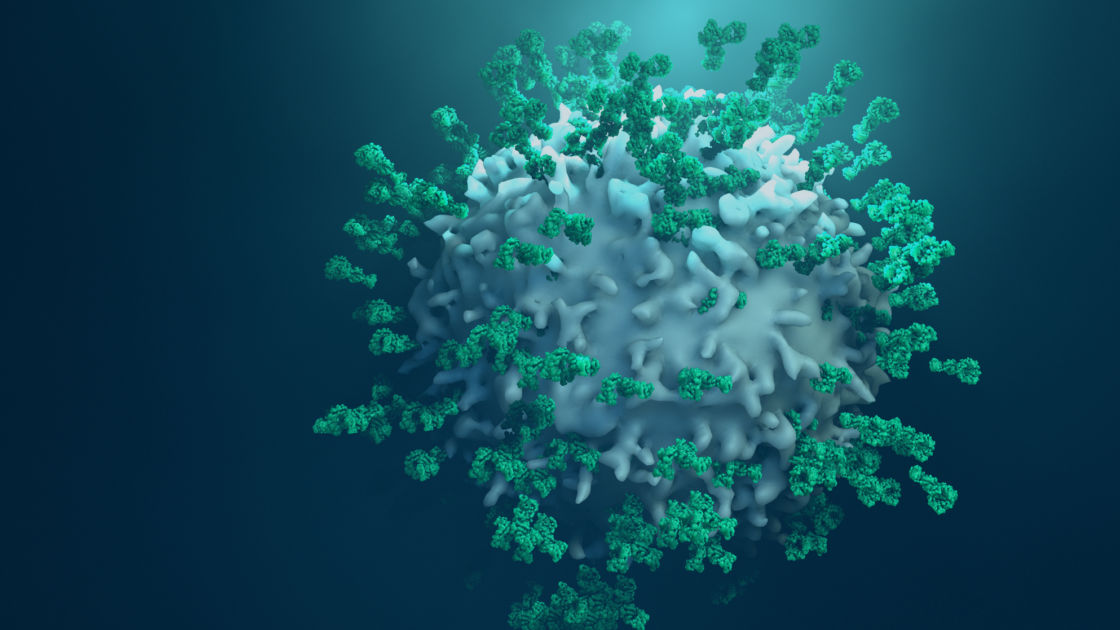 Gene Expression Profiling (GEP) Signatures to Advance Your Research
TIS • PAM50 • LST • Other Molecular Signatures
Gene expression profiling (GEP) signatures consists of sets of genes that are characteristic of a particular disease, tissue, cell type, cell state or biological perturbation. The significant diagnostic, predictive and prognostic value of GEP signatures places them at the forefront of translational and precision medicine research. Thousands of signatures have been generated and annotated, and have been valuable in the interpretation of gene expression datasets generated from heterogeneous samples. Only a small number of signatures, however, have been shown to have clinical significance.
NanoString has a long and rich history of providing innovative gene expression analysis solutions that support biology driven RNA expression analysis across multiple disease and research areas, including GEP signatures with demonstrated clinical utility in immuno-oncology, breast cancer, and lymphoma.
Your Trusted Partner in Translational Research
NanoString has been developing translational research tools for over 20 years and believes in partnering with scientists to advance their research. Recognizing the importance of gene expression profiling signatures in advancing disease biomarkers to improve patient outcomes, NanoString has partnered in the development and analytical validation of three clinically relevant signatures.
Established and Clinically-Relevant Gene Expression Profiling Signatures
TIS
Tumor Inflammation Signature (TIS)
18 functional genes known to be associated with response to PD-1/PD-L1 blockade and other immune-oncology targeted therapies
Measures key pathways of Immune Biology: IFN-ү signaling, antigen presentation, chemokine expression, cytotoxic activity, and adaptive immune resistance genes
Quantifies the magnitude of a peripherally suppressed, adaptive immune response in the tumor microenvironment
PAM50
50-gene signature that allows for the classification of breast cancer into four biologically distinct subtypes and used to generate a prognostic score
Defines 4 prototypical subtypes: Basal, Her2-Enriched, Luminal B and Luminal A
Risk of Recurrence (ROR) score and risk category available (if annotations provided)
LST
Lymphoma Subtyping Test (LST) Signature
15-gene signature based on the Leukemia and Lymphoma Molecular Profiling Project Lymph2Cx assay, also known as the Cell-of-Origin signature
The LST report includes the Linear Predictor Score (LPS) and the DLBCL cell of origin subtype: GCB, ABC, or Unclassified
Other Gene Expression Profiling Signatures
In addition to three clinically relevant signatures, select Nanostring panels offer the ability to look at numerous other gene expression profiling signatures that can accelerate your research.
View example data analysis report: BC360 TNBC Demo Report
Select nCounter Gene Expression Panels Supporting Gene Expression Profiling Signatures
NanoString's nCounter Analysis Platform offers robust performance on even the most difficult sample types (FFPE, peripheral blood) and unparalleled flexibility in content and throughput. The nCounter® 360 Series Panel Collection measures the gene expression profiles of 770 or more genes and provides a 360° view into the biology of the tumor, microenvironment, and the immune response. Embedded within the panel content are TIS and PAM50 gene signatures along with additional research signatures to help expedite research. Importantly and if appropriate, both TIS and PAM50 gene signature scores can be reported from the same sample.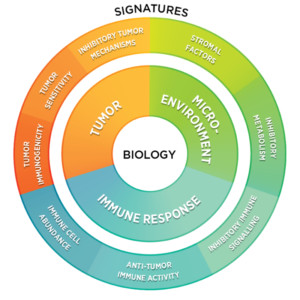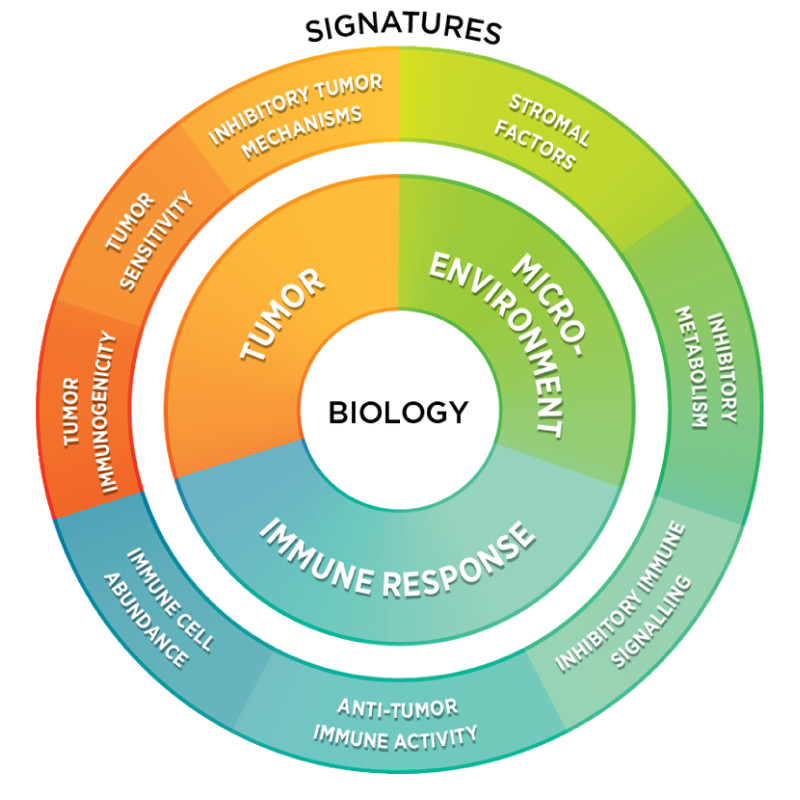 This panel examines the complex interplay between the tumor, microenvironment, and immune response in cancer, allowing for a multifaceted characterization of disease biology and interrogation of mechanism of immune evasion. The panel incorporates 48 potentially predictive RUO biological signatures, including TIS.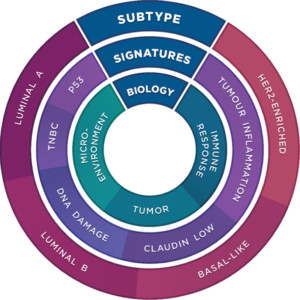 This panel helps researchers quickly decode the complexities of breast cancer biology, develop novel breast cancer gene signatures, and categorize disease heterogeneity using 48 biological signatures, including signatures based upon the validated PAM50 and TIS assays.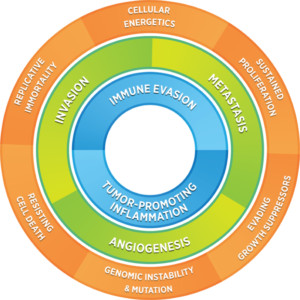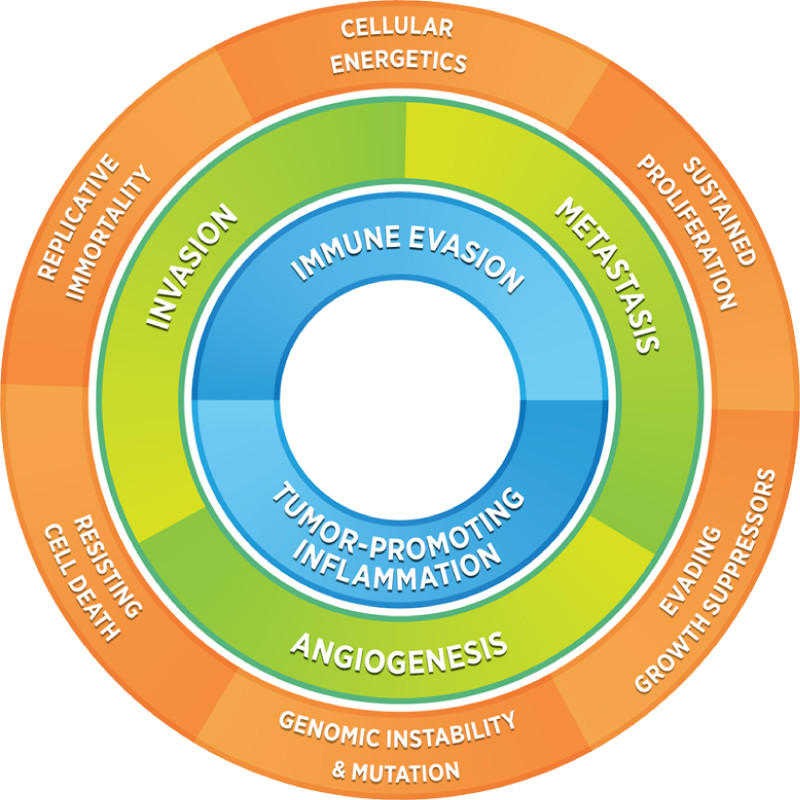 This panel offers a holistic view of the biology of the tumor, microenvironment, and immune response with an emphasis on dysfunctional cell signaling in cancer. This panel contains TIS.
RUO Assays Available as Single Signature CodeSets
NanoString also offers select CodeSets that can generate data for individual signature reports. These CodeSets only contain the genes within the signature along with target/reference genes.
Contains probes for the 20 genes within the LST signature, 15 target genes and 5 reference genes.
Contains probes for the 50 genes within the PAM50 signature as well as 8 reference genes.
Gene Expression Signature Data Analysis Reports
Gene expression profiling signature data analysis reports are available through NanoString's Data Analysis Service. NanoString's Data Analysis Service enables scientists and researchers to analyze and interpret differential gene expression results without the need for bioinformatics or programming skills. Visit the site for more details.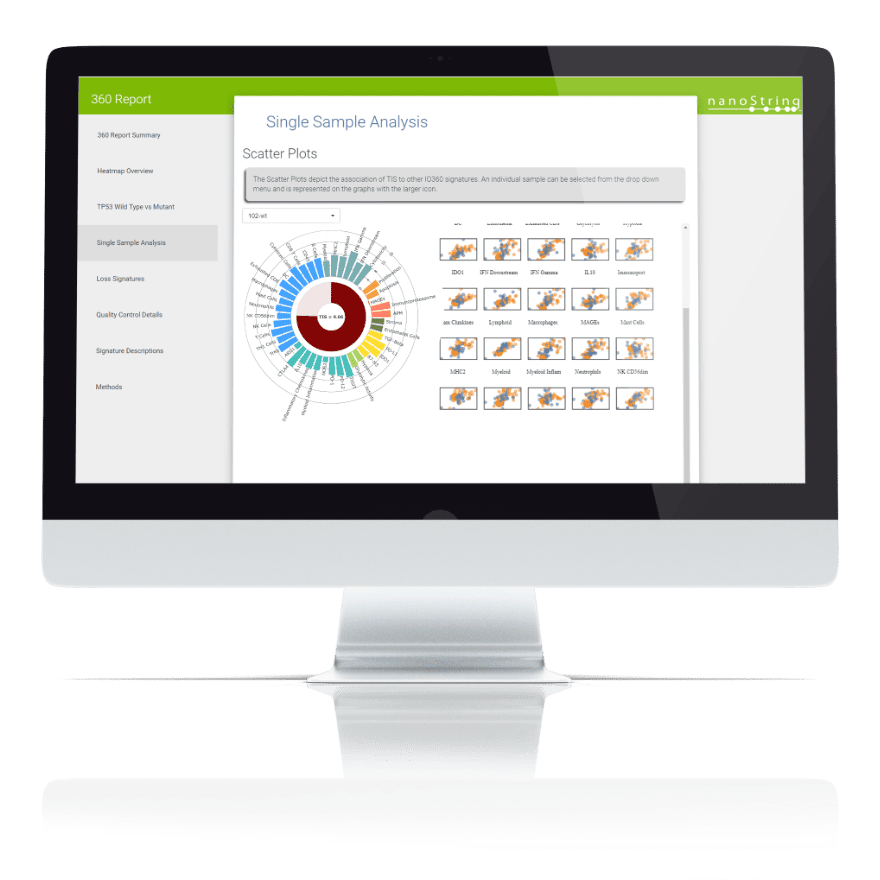 Want to Learn More?
Fill out the form below to learn more about our GEP solutions.