The aggressive pace of oncology research is characterized by large-scale, multidisciplinary efforts such as The Cancer Genome Atlas, The Human Protein Atlas, and Precision Medicine Initiative. With a broader and deeper understanding of the biology and signaling pathways that lead to cancer, scientists are better equipped to identify, characterize, and target biomarkers that can be translated into clinical applications. However, with these recent advancements comes a desperate need to understand the influence of the tumor microenvironment on cancer progression, evolution, and the resulting immune response. To make this next leap forward, scientists need tools that enable them to take an integrated, multi-omic, and 360° view of the tumor, immune response and microenvironment.
Challenges
Novel single-cell cancer genomics studies and spatial biology have led to new insights on tumor heterogeneity. NanoString's GeoMx Digital Spatial Profiling (DSP) technology allows for a thorough exploration of the complex interactions with the tumor microenvironment through visualization and quantification of transcripts and proteins on individual tissue sections.
Coupled with nCounter expression panels focused on clinical research, immuno-oncology, cancer metabolism, and CAR-T cell therapy, NanoString provides solutions for every step of the way in cancer research, from bulk gene expression analysis to spatial profiling.
NanoString offers solutions that overcome the biggest challenges in cancer research:
The complex interactions between the tumor and microenvironment
A highly heterogeneous disease that leads to variable therapeutic response
An ever-increasing number of possible therapeutic targets and combination trials
NanoString's nCounter oncology gene expression panel portfolio has driven innovation since its inception, starting with the initial Hallmarks of Cancer Panel Collection and the best-selling PanCancer Immune Profiling Panel and PanCancer Pathways Panel. Expanding on this, the 360 Series Panel Collection and Data Analysis Service allow researchers to better understand therapeutic response/mechanism of action, immune evasion, and the interplay between the tumor and microenvironment.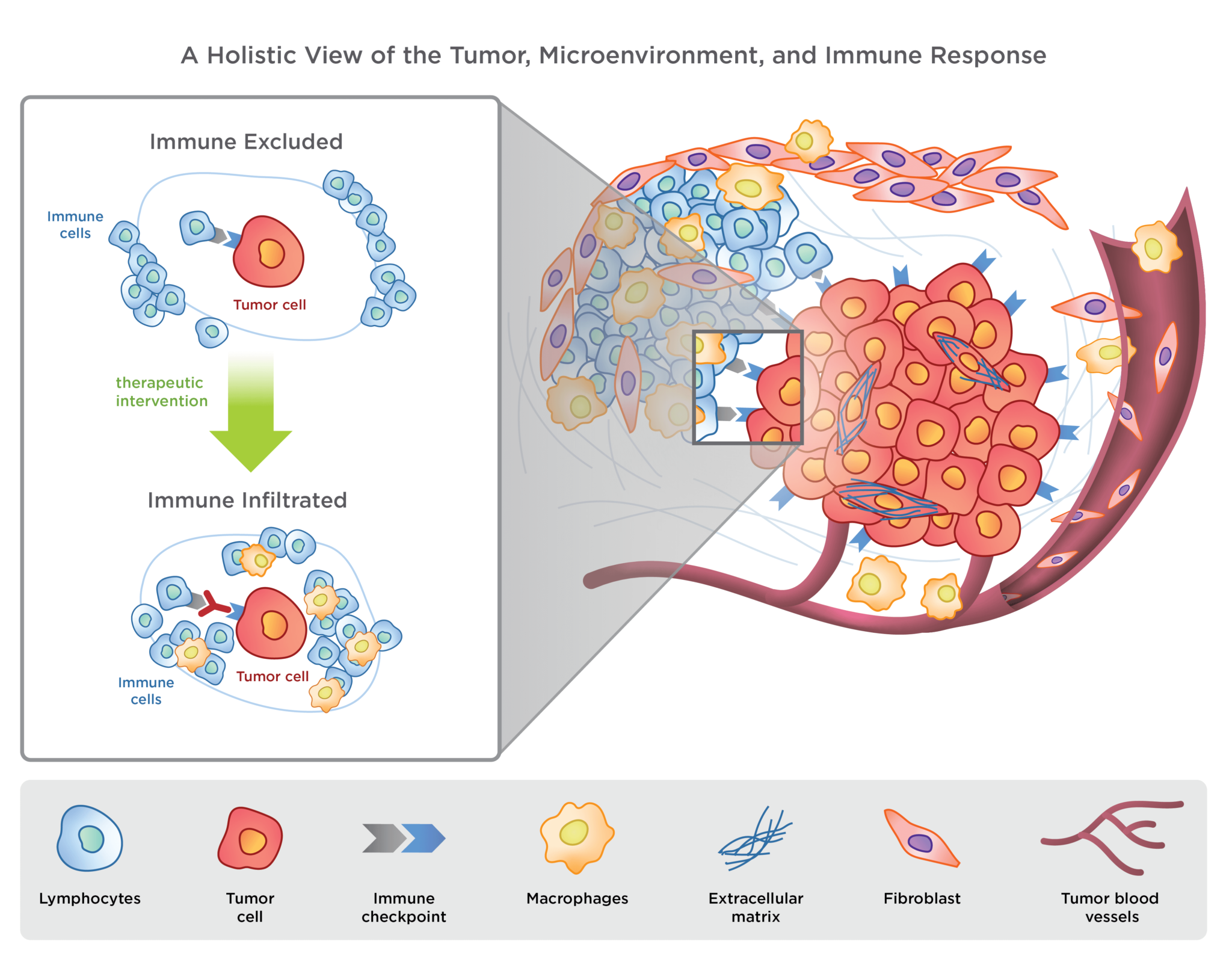 Featured Solutions
Choose from curated, multiplexed nCounter Gene Expression Panels, GeoMx DSP RNA Assays, and/or GeoMx Protein Assays to build your next experiment and discover answers to your oncology research questions. Take advantage of the immune cell type signatures in nCounter expression panels to quantify the relative abundance of 14 different immune cell types as well as embedded signatures such as the 18-gene Tumor Inflammation Signature (TIS) in the 360 series panels.
Featured Applications
To help you in your quest to understand the oncology landscape, we've developed trusted solutions for every step of your research.
Preclinical and Clinical Research
Precise and flexible research solutions for preclinical research, drug development and assessment of therapeutic response. Focus areas include cell therapy, combination therapies, immunotherapy, comparative oncology, characterization of signaling pathways in response to targeted therapies, and mechanism of action (MoA) studies to assess the impact of a drug on its intended target.
Cancer Metabolism
Expression panels focused on altered metabolism of cancer cells, CAR-T cells, and other immune cell types.
Biomarker Discovery and Validation
Optimized products & protocols for identifying Coding RNA, Non-coding RNA, and protein biomakers. Tools to expedite signature development, including focused 360 Panels, Data Analysis Reports, and the Cancer Transcriptome Atlas.
Cancer Genomics
Tools for studying the impact of changes in the cancer genome. Predict MSI status, detect RNA fusions and quantify copy number variation (CNV).
Tumor Biology
Tailored solutions for visualizing cancer heterogeneity and metastatic tumors that focus on specific tumor types including hormone-driven tumors (e.g. breast, myeloma, leukemia/lymphoma and solid tumors).
Have questions or simply want to learn more?
Contact our helpful experts and we'll be in touch soon.
Contact Us