Biomarker Discovery and Drug Development
The drug development process can be complex, consisting of many highly involved stages. To maximize success in the drug development process, it is advantageous to identify and reliably measure biomarkers playing a critical role at every stage of the drug development process: initial identification of the candidate drug, preclinical and translational research, clinical development, and reverse translational studies.
NanoString's platforms enable you to design more efficient sample analysis workflows and reduce complexity associated with biomarker discovery and biomarker development. Whether your research requires bulk gene expression analysis, whole transcriptome spatial analysis, or single cell and sub-cellular spatial analysis, our innovative technologies can accelerate your scientific discoveries and de-risk your drug development process.
Pharma and CRO Summit Series
Accelerate and De-risk Biomarker Discovery
and Drug Development with NanoString
Biomarkers discovered in early stages of drug development must be biologically robust and verified as drug development advances. Adequate collection, storage, and limited availability of samples often prevent biomarker execution plans in translational and clinical studies, severely hindering the biomarker development process. NanoString's products offer innovative approaches that successfully generate robust exploratory biomarker data from limited and challenging sample types. nCounter® gene expression assays provide proven reliability for biomarker sample analysis to inform critical decisions and to advance drug development programs.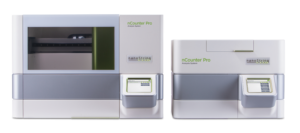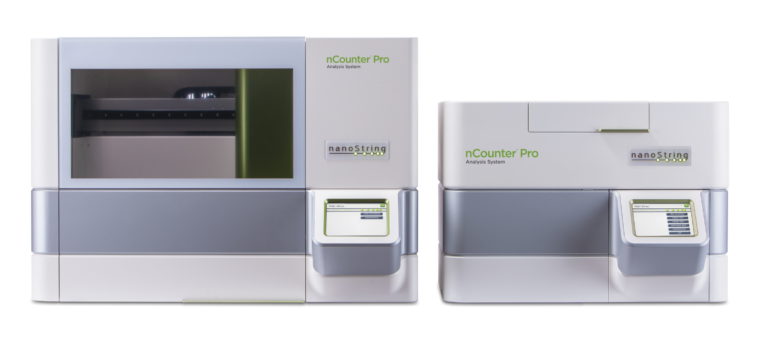 nCounter®
Analysis System
Pathway-based gene expression analysis relevant across different disease areas, commonly used in clinical trials to simultaneously analyze dozens of biologically and clinically-relevant gene expression profiling signatures; robust performance on challenging samples, including FFPE and biofluids.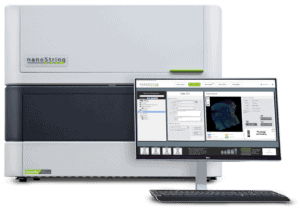 GeoMx®
Digital Spatial Profiler
Morphological, spatial context for whole transcriptome and high-plex proteomics experiments from a single slide. Independently characterize compartments in tissue microenvrionment without the confounding effects common encountered in standard bulk gene expression profiling methods.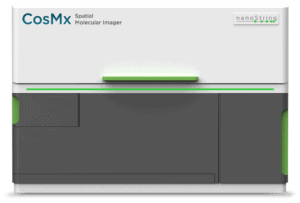 CosMx™
Spatial Molecular Imager
In situ single cell profiling of RNA and proteins with subcellular resolution; sophisticated approach incorporating protein and RNA expression to enhance cell segmentation accuracy; enable biomarker discovery and understand treatment effect using the highest plex in the market.
nCounter: Biomarker Discovery Simplified
Benefits of Using the nCounter Platform in Drug Development
Fast turn-around-time (TAT): get biological insights in less than 24 hours using a simple workflow. Make informed decisions timely.
Exceptionally robust gene expression results on clinical-grade samples.
Analytical reproducibility across different sample types, including challenging samples such as blood and FFPE.
Automated workflow with minimal hands-on-time, maximize quality and consistency while reducing overhead cost.
Expertly curated gene expression profiling signatures including TIS, LST and PAM50. Streamline biomarker development and receive supporting end-user required content.
nCounter Analysis System Featured Applications
Profiling with Established GEP Signatures
Biomanufacturing – Cellular and Gene Therapy
Profiling with Established GEP Signatures
Access Established and Clinically Relevant Gene Expression Profiling Signatures
NanoString has partnered in the development and analytical validation of three clinically relevant signatures with demonstrated clinical utility in immuno-oncology, breast cancer, and lymphoma.
TIS: Measure tumor inflammation using 18 functional genes known to be associated with response to PD-1/PD-L1 blockade and other immuno-oncology targeted therapies.
PAM50: Classify breast cancer samples into four biologically distinct subtypes: Basal, Her2-Enriched, Luminal B and Luminal A using the highly validated 50-gene signature.
LST: Profile cell of origin for diffuse large B-cell lymphoma using a 20-gene signature based on the Leukemia and Lymphoma Molecular Profiling Project Lymph2Cx assay.
Broad molecular gene expression profiling signatures: all NanoString panels offer the ability to look at numerous molecular and cell abundance signatures relevant across various molecular and cellular mechanisms in health and disease states. The IO 360™ Panel incorporates 48 exploratory RUO biological signatures with high potential as predictive biomarkers, including TIS.
Additional Resources:
Related Webinars:
Developing Custom GEP
Democratized Access to Robust and Reliable Signature Development
Develop your own gene expression profiling signature or implement an existing one with Custom CodeSets or Elements Reagents.
nCounter technology offers:
Direct digital detection with minimal sample manipulation
A simple, automated workflow, minimizing error and bias introducing steps
Proven reproducibility across multiple runs, users, and sites
Related Webinars:
Biomanufacturing – Cellular and Gene Therapy
Biomanufacturing, also known as bioproduction, utilizes biological systems to provide commercial or clinical trial materials for use in therapeutics. Many assay development challenges exist, in particular, biomanufacturing of cellular and gene therapies. Traditional in-process testing is typically done across various assay platforms with low reproducibility and robustness, complicated technical steps with a lot of hands-on time, and long turnaround times to results.
The nCounter Pro is a modernized and streamlined approach to assay development providing simple, automated workflows and robust performance. Fit-for-purpose pre-built panels address essential characterization and provide a starting point for further cellular and gene therapy assay development. Many in-process and QC assays can be ported to the nCounter Pro streamlining various assay solutions under a single cybersecure, CFR Part 11 compliant system that meets biomanufacturing regulatory requirements.
A Spatial Solution for Every Biomarker Discovery Stage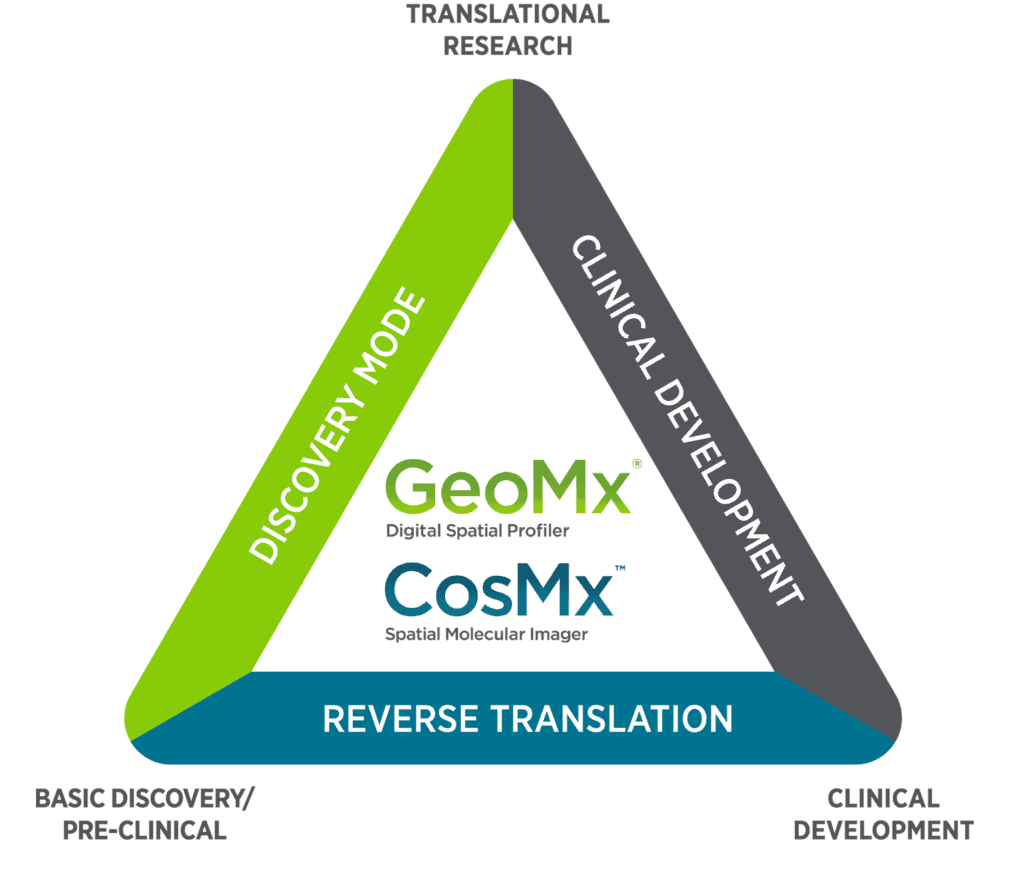 Spatial biology uses in situ-based approaches to study cellular composition and function within the 2- or 3-dimensional context of a tissue. The architecture of tissue and cell-cell interactions in their native environment can be mapped using spatial biology.
Analyzing RNA and protein expression from a single slide with spatial context using GeoMx DSP or CosMx SMI enables researchers to view a positional map of cells and increases the understanding of tissue and cellular architecture and interaction.
Benefits of Implementing GeoMx® DSP and CosMx™ SMI in Drug Development Research
Generate rich multiomic, high-plex spatial datasets — understand health and disease states better.
Maximum flexibility to interrogate entire tissue area or focus on regions of interest that are biologically or clinically relevant.
Improved standard tissue analysis workflows — overcome challenges generally encountered with standard tissue analysis workflows and benefit from industry defined best practices when using GeoMx DSP.
Navigate between two dimensions of resolution seamlessly — spatial platform panel design encompasses same principals and can enable seamless translation of observations from one assay to another, GeoMx DSP to CosMx SMI and vice versa.
Leverage NanoString's 20 years of probe design to effectively expand content in any off-the-shelf panels.
True multiomic spatial platform capabilities — maximize insights gained from a single FFPE tissue section using proteogenomic applications
Want to Learn More?
Fill out the form to learn more about our biomarker discovery and drug development solutions.