Biomarker Discovery and Drug Development
The drug development process can be complicated, consisting of many highly involved stages. To avoid costly missteps, it is critical to have well-validated biomarkers that play a critical role in every stage of the drug development process—initial identification of candidate drug, translational research, clinical development, and reverse translational studies.
NanoString's platforms facilitate efficient biomarker discovery and validation throughout all these stages. Whether your research requires bulk, single-cell or sub-cellular spatial analysis, our innovative technologies can accelerate your scientific discoveries in drug development.
Pharma and CRO Spatial Summit Series
Accelerate and De-risk Biomarker Discovery and Drug Development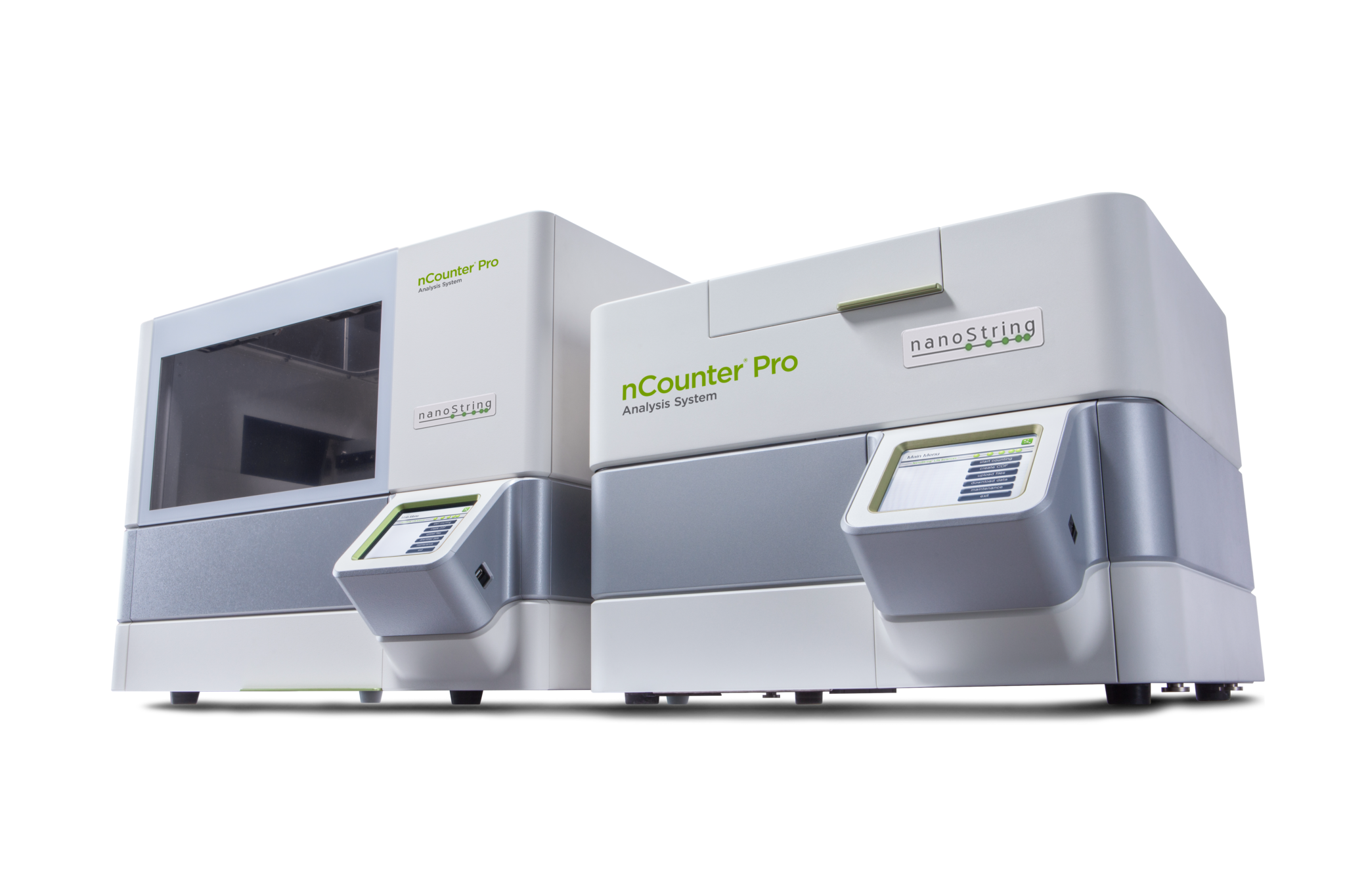 nCounter® Pro Analysis System
Up to 800-plex Pathway Based Gene Expression Tissues, FFPE, Biofluids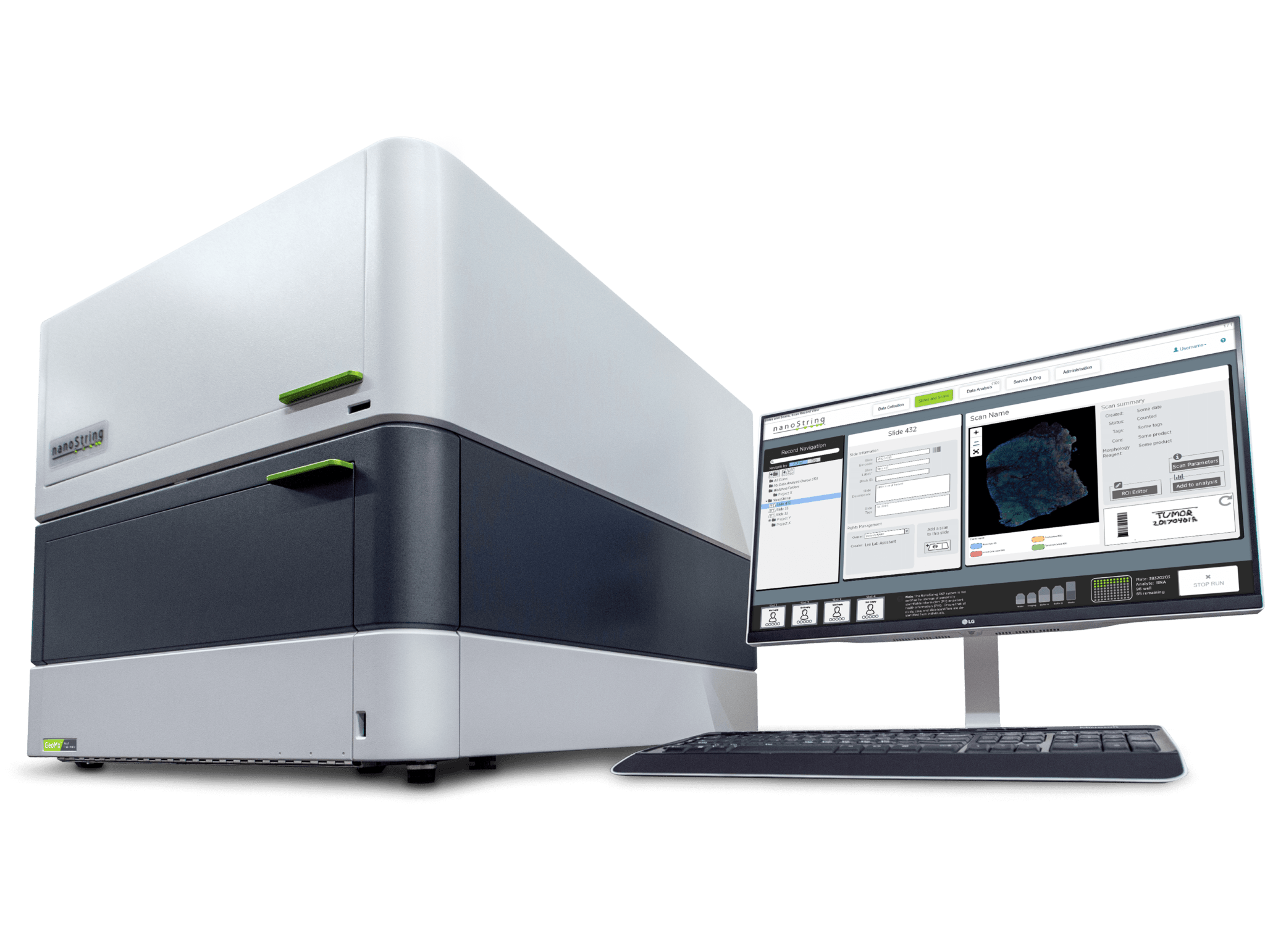 GeoMx® Digital Spatial Profiler
Morphological, spatial context for whole transcriptome and proteomics experiments from a single slide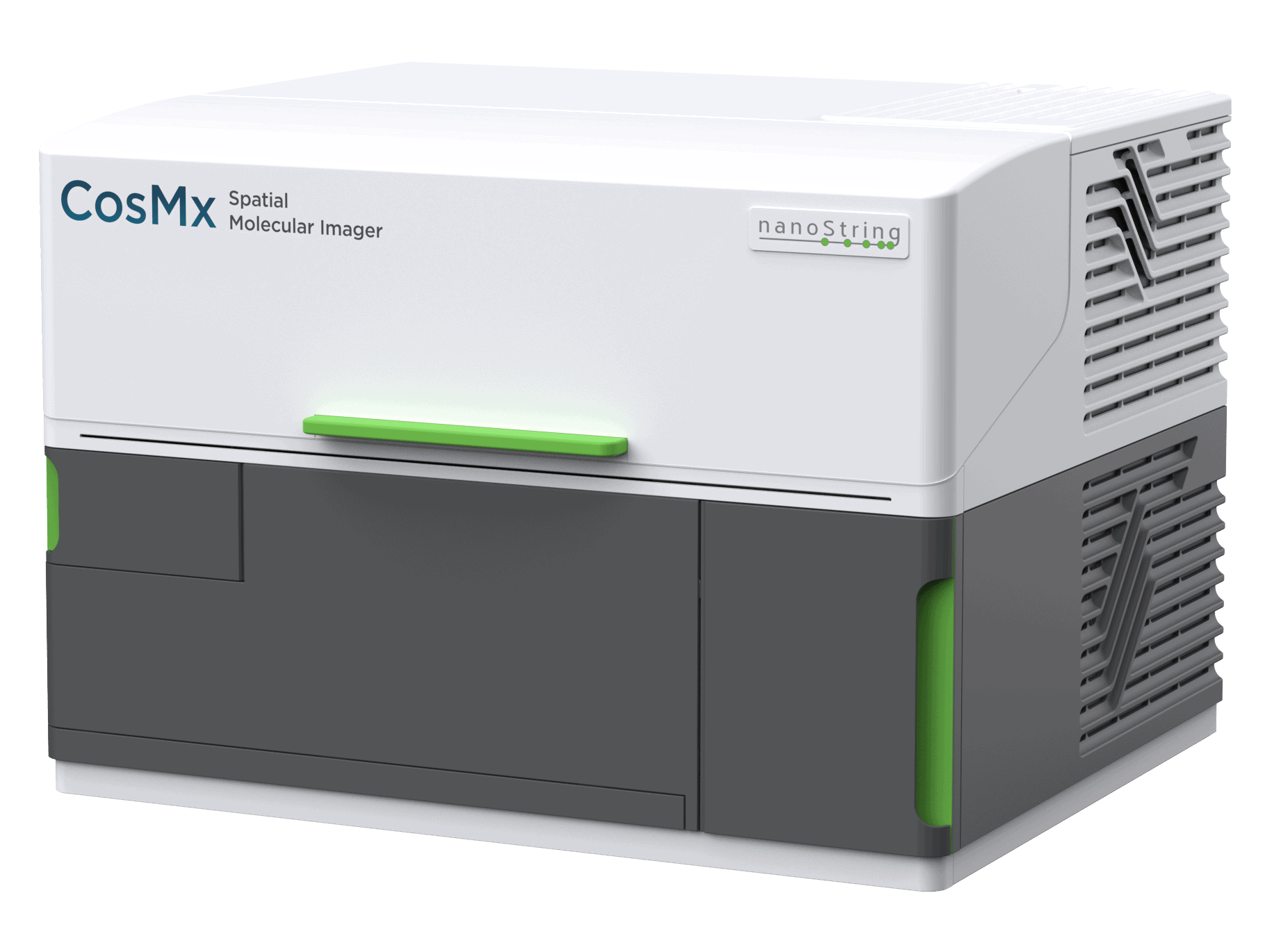 CosMx™ Spatial Molecular Imager
Single cell profiling of RNA and proteins with subcellular resolution
Biomarkers discovered in early stages of drug development must be biologically robust and verified as drug development advances. Mechanistic studies to verify biomarkers derived from high-plex experiments are needed for biomarker development success. Adequate collection, storage, and limited availability of samples often prevent biomarker execution plans in clinical development stage studies, severely reducing the speed at which biomarker development can progress. NanoString technologies generate robust exploratory biomarker data from limited and challenging sample types and can be utilized for sample analysis to advance drug development programs.
Biomarker Discovery Simplified
Access biomarker discovery solutions for every stage of drug development
Trust biomarker findings to de-risk drug development
Verify biomarkers using reliable and robust technologies
Get the most from your data using high-plex spatial solutions to accelerate drug development
5 Reasons to Use nCounter Pro for Drug Development
Save time and resources–biological insights in less than 24 hours using a simple workflow
Get exceptional robustness–verify biomarkers as drug development progresses
Protect your data in a cybersecure and 21 CFR Part 11-compliant environment
Get flexibility with off-the-shelf curated gene expression content and custom options to fit various areas of research
Generate gene expression data from various and challenging sample types
Spatial biology uses in situ-based approaches to study cellular composition and function within the 2- or 3-dimensional context of a tissue. The architecture of tissue and cell:cell interactions in their native environment can be mapped using spatial biology. Analyzing RNA and protein expression from a single slide with spatial context enables researchers to view a positional map of cells and increases the understanding of tissue and cellular architecture and interaction.
A Spatial Solution for Every Biomarker Discovery Stage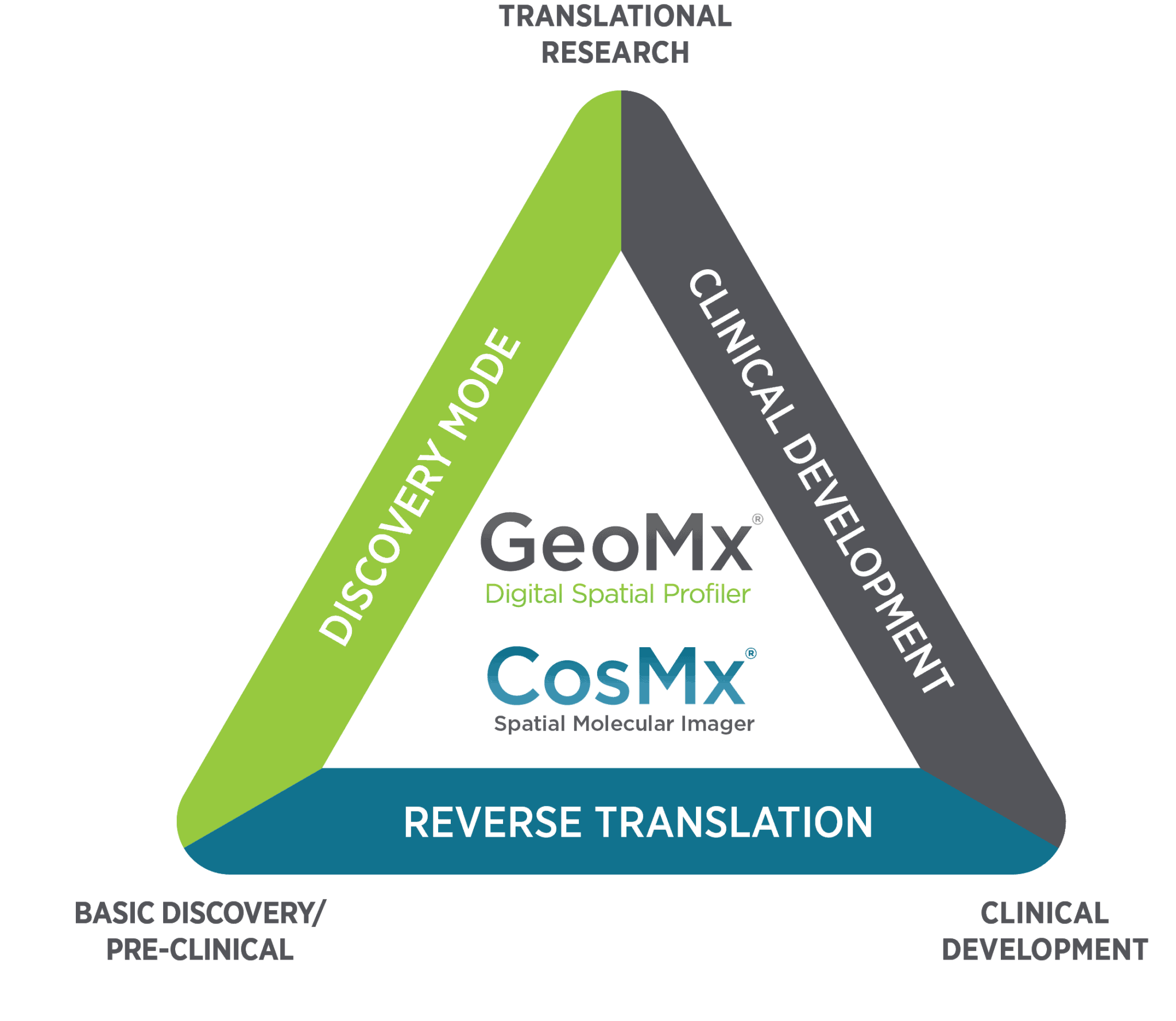 5 Reasons to Use Spatial Biology with GeoMx® DSP and CosMx™ SMI for Drug Development
Use minimal tissue sample input (as little as a single tissue section), to perform high-plex spatial protein and gene expression profiling of distinct regions in tissue microenvironments to identify and validate biomarkers
Generate usable data that is highly robust and reproducible, enabling novel discoveries
Apply innovative solutions for protein and RNA biomarker discovery and development for exploratory biomarker applications in situ
Generate spatially resolved multi-omic data from any sample type and across various species for biomarker discovery efforts across the full drug development continuum
Get direct visualization and quantitation of relevant biomarkers nCounter Pro Featured Applications
nCounter Pro Gene Expression Signatures
Cellular and Gene Therapy – Biomanufacturing
nCounter Pro Gene Expression Signatures
Democratized Access to Robust and Reliable Signature Development
Thousands of clinically relevant gene signatures have been described in the literature, but few have been developed into a standardized assay. Implementing microarrays, qPCR, and NGS has proved to be challenging due to errors introduced during steps like library prep, RT, and amplification.
nCounter® Pro technology solves these issues with:
Direct digital detection with minimal sample manipulation
A simple workflow, eliminating error introducing steps
Proven reproducibility across multiple runs, users, and sites
Develop your own gene signature or implement an existing one with Custom CodeSets or Elements Reagents.
Related Webinars:
Cellular and Gene Therapy – Biomanufacturing
Cellular and Gene Therapy – Biomanufacturing
Biomanufacturing, also known as bioproduction, utilizes biological systems to provide commercial or clinical trial materials for use in therapeutics. Many assay development challenges in biomanufacturing of cellular and gene therapies exist. Traditional in-process testing is typically done across various assay platforms with low reproducibility and robustness, complicated technical steps with a lot of hands-on time, and long turnaround times to results.
The nCounter Pro is a modernized and streamlined approach to assay development providing simple workflows and robust performance. Fit-for-purpose pre-built panels address essential characterization and provide a starting point for further cellular and gene therapy assay development. Many in-process and QC assays can be ported to the nCounter Pro streamlining various assay solutions under a single cybersecure, CFR Part 11 compliant system that meets biomanufacturing regulatory requirements.
GeoMx DSP and CosMx SMI are novel spatial translational tools for biomarker discovery for all areas and stages of cellular and gene therapy drug development including evaluating pre-clinical patient responses.
Want to Learn More?
Fill out the form to learn more about our biomarker discovery and drug development solutions.