What is the GeoMx Tissue Book?
The GeoMx Tissue Book is a repository of images, data, and region of interest (ROI) selection and segmentation strategies for different tissue types and diseases that have been analyzed through the GeoMx Digital Spatial Profiling (DSP) Technology Access Program.
Each individual PDF page of the GeoMx Tissue Book includes images of the tissue and is annotated by the disease(s) studied, species of interest, and type of assay performed.
Why Use the GeoMx Tissue Book?
See representative images for tissues and/or disease areas that you are studying.
Get ideas on how to select ROIs and segment the tissue to meet your study design needs.
Review spatial transcriptomics data from different tissues representing various diseases.
Explore the anatomy of a tissue book page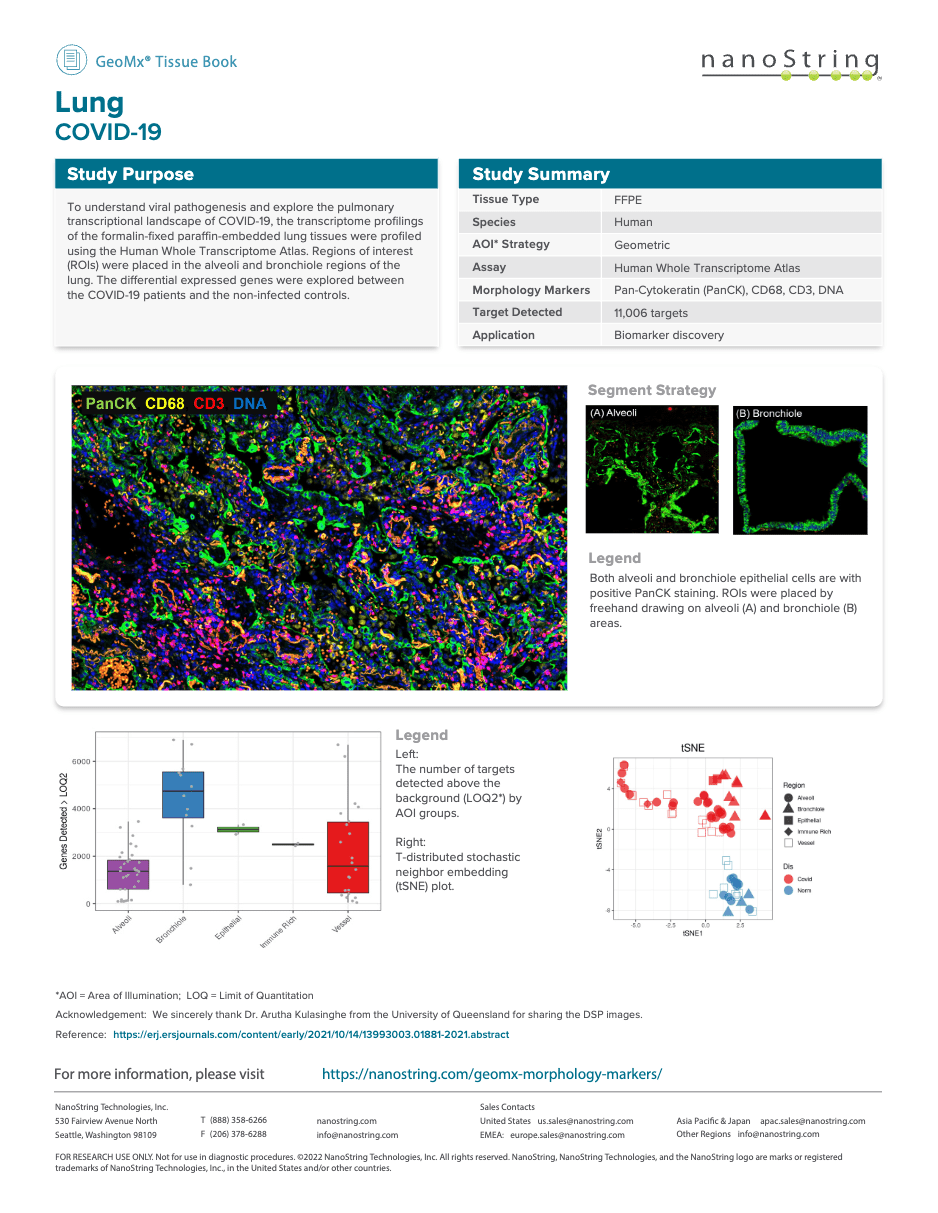 The type of tissue and disease profiled.

Learn about the application and study design.

Get a high-level overview of what kind of sample type was used, species, strategy for area of illumination as well as the assay and morphology markers used. Learn how many targets were detected from the assay for this particular study.

See an actual image taken with the GeoMx Digital Spatial Profiler annotated with the different fluorescent markers used to outline tissue morphology and/or cell types.

Learn more about the Segmentation Strategy and how individual regions of interest were compartmentalized into different areas of illumination and/or cell type populations.

See how many targets were detected above the background for each tissue compartment and/or cell type profiled.

View additional plots showing the results of the study.

Here you can click on this link to visit our Morphology Marker page to learn about which fluorescently-tagged antibodies or RNAScope Probes have been used on the GeoMx DSP.
Tissue Book Collection
Browse entries here, or just download the complete tissue book.
| Tissue | Tissue Biology | Species | Type | Assay | |
| --- | --- | --- | --- | --- | --- |
| Kidney | Pediatric Renal Allograft | Human | FFPE | Human Whole Transcriptome Atlas | Download |
| Lymph Node | Lymphoma | Human | FFPE | Human Whole Transcriptome Atlas | Download |
| Lung | Lung Cancer | Human | FFPE | Human Whole Transcriptome Atlas | Download |
| Skin | Hidradenitis Suppurativa | Human | FFPE | Human Whole Transcriptome Atlas | Download |
| Brain | Parkinson's Disease | Mouse | FFPE | Mouse Whole Transcriptome Atlas | Download |
| Ovary | Ovarian Cancer | Human | FFPE | Human Whole Transcriptome Atlas | Download |
| Brain | Schizophrenia | Human | FFPE | Human Whole Transcriptome Atlas | Download |
| Breast | Breast Cancer | Human | FFPE | Human Whole Transcriptome Atlas | Download |
| Colon | Colonic Adenoma | Human | FFPE | Human Whole Transcriptome Atlas | Download |
| Esophagus | Barrett's Mucosa | Human | FFPE | Human Whole Transcriptome Atlas | Download |
| Kidney | Kidney Cancer | Human | FFPE | Human Whole Transcriptome Atlas | Download |
| Liver | Hepatocellular Carcinoma | Human | FFPE | Human Whole Transcriptome Atlas | Download |
| Lung | COVID-19 | Human | FFPE | Human Whole Transcriptome Atlas | Download |
| Lung | Tuberculosis | Human | FFPE | Human Whole Transcriptome Atlas | Download |
| Lung | NSCLC | Human | FFPE | Human Whole Transcriptome Atlas | Download |
| Muscle | Myositis | Human | FFPE | Human Whole Transcriptome Atlas | Download |
| Placenta | Chronic Intervillositis of Unknown Etiology | Human | FFPE | Human Whole Transcriptome Atlas | Download |
| Prostate | Prostate Cancer | Human | FFPE | Human Whole Transcriptome Atlas | Download |
| Skin | Melanoma | Human | FFPE | Human Whole Transcriptome Atlas | Download |