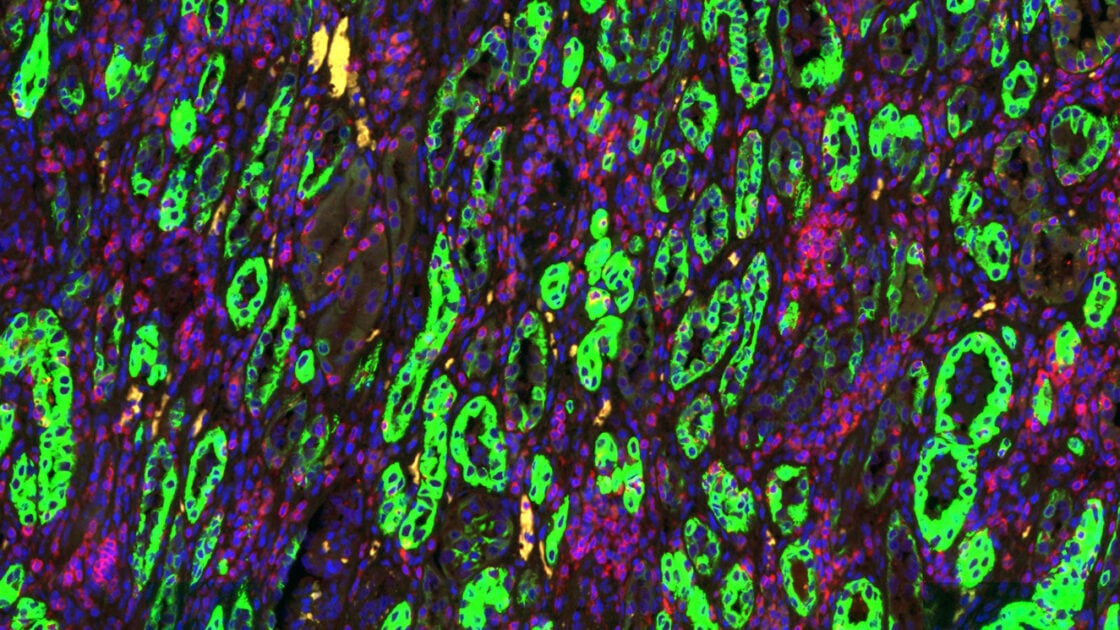 2022 Spatial Biology
Image Contest
Showcase your scientific and artistic eye by participating in the 2022 Spatial Biology Image Contest
We invite researchers from all over the world to submit their most beautiful, original and impressive spatial biology images obtained with NanoString instruments for the chance to:
Win a travel grant of up to USD $1500 to attend a scientific conference of your choice within your region (NA, EMEA, APJ) in 2023.
Have your image featured as part of our 2023 Spatial Biology Calendar and on social media, produced as courtesy of NanoString and distributed all over the world. (Images will be credited to the person submitting them.)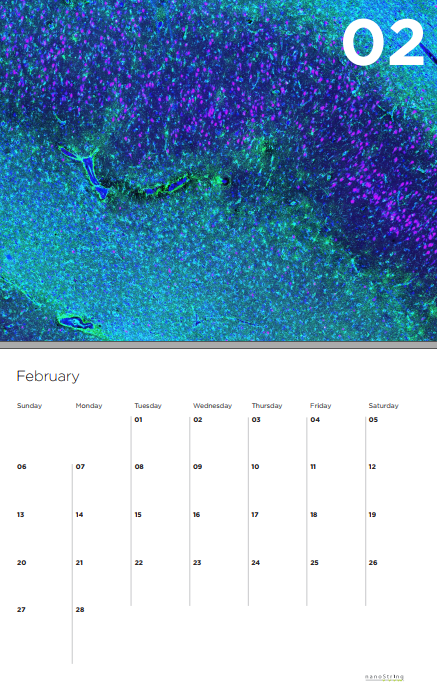 Submit Your Images by September 30, 2022
Reveal the artist that lies within you and tell us the scientific story behind your stunning imagery… and get featured on our 2023 calendar!
Competition Overview
Images must be submitted using the online form below. The entrant must accept that their image may be used for marketing purposes by NanoString.
The image file format must be .jpeg or .eps. The image should be high resolution: at 300 dpi and at least 16 inches/40 cm wide. Images should not be part of published work unless the publication in question is deemed "open access" by the journal.
Alongside your image, you will be requested to provide the following information:

Instrument: GeoMx/CosMx
Tissue
Sample type (FFPE, fresh frozen, etc)
Colors and associated morphology markers
Magnification (indicate the scale)
How that image was generated (scientific abstract)
Entry Form
To participate in the image competition, please fill out the form below.
All fields are required.
The submission deadline has passed. Thank you for your interest.
Entries must be submitted by September 30, 2022
Full Terms & Conditions
Eligibility Requirements
Images must be acquired using NanoString instruments: GeoMx® DSP or CosMx™ SMI.
Each participant must be actively enrolled or employed at a research institution in a capacity in which they perform life science research.
Images must be submitted by September 30th 11:59 PM Pacific Standard Time
The grant winner must be age 18 or older. Members of the immediate families of NanoString employees and directors, and persons living in the same household as such persons, are ineligible for this contest.
The person submitting the image must have all required permissions to authorize NanoString's use of the image and the entry must not contain any material that infringes anyone else's copyright or other intellectual property rights.
Images must be submitted using the online form above. The entrant must accept that their image may be used by NanoString in accordance with the terms and conditions below.
The travel grant award allows for the recipient to receive up to a USD $1,500 reimbursement covering travel or accommodation to and from their regional conference of choice to present a poster or oral presentation of the abstract submitted in this contest, subject to the requirements below.
Travel Grant Judging Process
NanoString will review and evaluate all of the images and related abstracts submitted in the contest, and will award the travel grant to the submission that NanoString believes, based on the sole judgment and discretion of NanoString personnel judging the contest, will have the greatest scientific impact. All decisions by NanoString with respect to such award will be final.
Miscellaneous
By clicking SUBMIT, you authorize NanoString Technologies, Inc. to use the image you are submitting for any purpose, including to use it in print and digital materials, on NanoString's website, and on social media platforms. You further agree that NanoString may edit, alter, copy, or distribute the image. You understand that you will not receive any monetary compensation for this submission or the authorization you are providing. NanoString Technologies, Inc. is the contest organizer and will be the producer of the calendar. No purchase is necessary to enter.
By participating in the contest, each applicant agrees that NanoString may use his or her name, abstract title, and abstract for marketing purposes, including on its website, email, or social media. All applicants agree that NanoString may process the personal data he or she provides as part of the application, including sharing such data with NanoString's partners, collaborators and other third parties who are obligated to keep the data confidential, and in accordance with NanoString's privacy policies available at nanostring.com/privacy.
The travel grant is limited to conference participation and associated travel between January 1, 2023- December 31, 2023. The conference and travel destination must be submitted to and approved in writing by NanoString twenty-one (21) days in advance of the conference date. The travel grant will be payable by reimbursement to the award winner up to $1,500 in eligible conference and travel related expenses upon submission of expense documentation to NanoString. Documentation must be received within sixty (60) days of the conference conclusion date to be deemed eligible for reimbursement. Travel grant reimbursement is limited to economy travel fare, lodging, and customary conference registration and participation fees. NanoString reserves sole discretion over which conference and travel destination the travel grant may be applied to. In no event will the travel grant be applicable to a conference located in a country subject to United States travel embargo, sanctions, restrictions, or other applicable regulatory action.
Award recipients may be required to sign and return an affidavit of eligibility, release of liability, a publicity release, and other appropriate legal documentation reasonably requested by NanoString. No substitution or transfer of the award is allowed, except as otherwise permitted by NanoString. Award winners are responsible for any local tax liability (city, state, or federal) occurred by winning and accepting the award.
If, for any reason, this travel grant program may not run as planned for any causes beyond the reasonable control of NanoString, then NanoString reserves the right in its sole discretion to cancel, terminate, modify or suspend the travel grant program. NanoString further reserves the right in its sole discretion to cancel, modify or suspend the competition generally. NanoString has not made any warranty, representation, or guarantee, express or implied, with respect to the grant award and related services, including, without limitation, their quality or fitness for a particular purpose. This program is void where prohibited or otherwise restricted by law. These terms and conditions and any action related to this grant program are governed by the laws of the State of Delaware, USA, without regard to its conflict of law provisions.