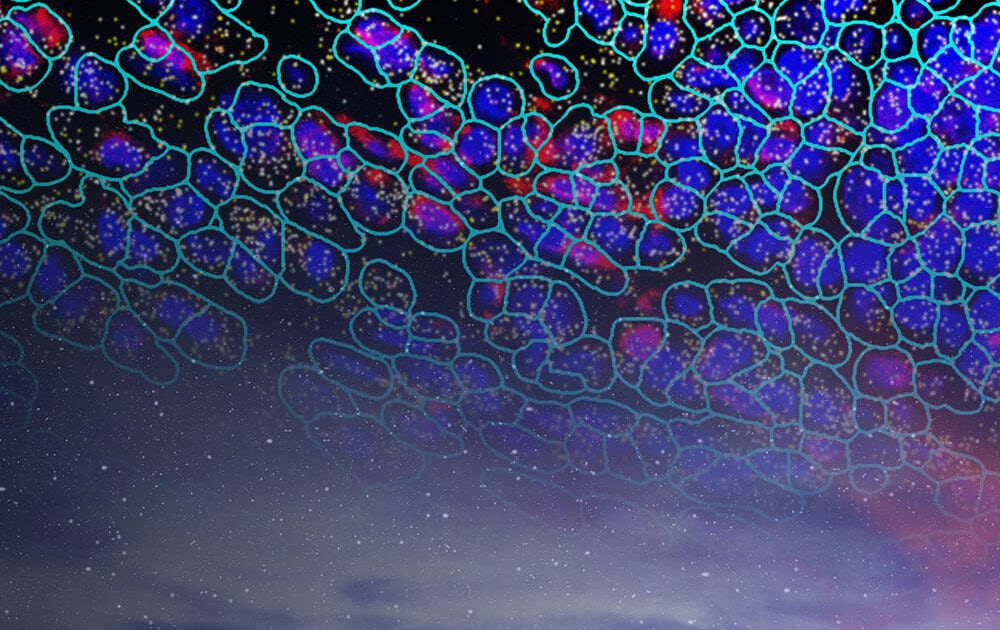 CosMx™ SMI for Single-Cell Imaging
True Single-Cell In Situ Solution Shipping Now
Elevate your single-cell research with CosMx™ SMI
A Spatial Multiomics Single-Cell Imaging Platform
CosMx SMI is the first high-plex in situ analysis platform to provide spatial multiomics with formalin-fixed paraffin-embedded (FFPE) and fresh frozen (FF) tissue samples at cellular and subcellular resolution. CosMx SMI enables rapid quantification and visualization of up to 1,000 RNA and 64 validated protein analytes. It is the flexible, spatial single-cell imaging platform that will drive deeper insights for cell atlasing, tissue phenotyping, cell-cell interactions, cellular processes, and biomarker discovery. True Single-Cell Segmentation
FFPE Compatibility
Get single-cell gene expression in challenging FFPE tissues with spatial context.

Melanoma FFPE tissue probed with 1000-plex RNA panel to detect spatial localization of transcripts in intact tissue.
High Sensitivity
Detect low expressing genes with highly sensitive CosMx SMI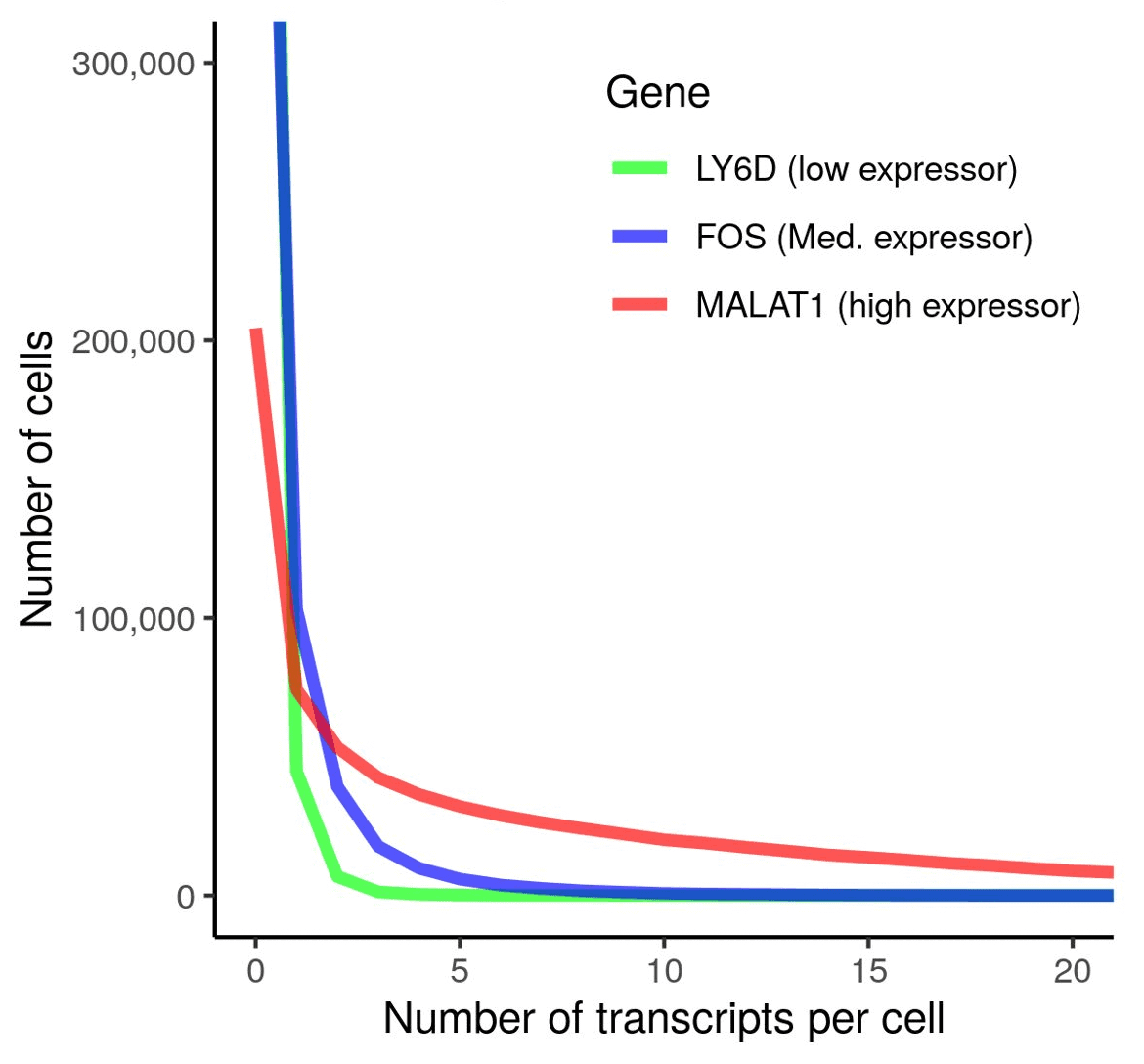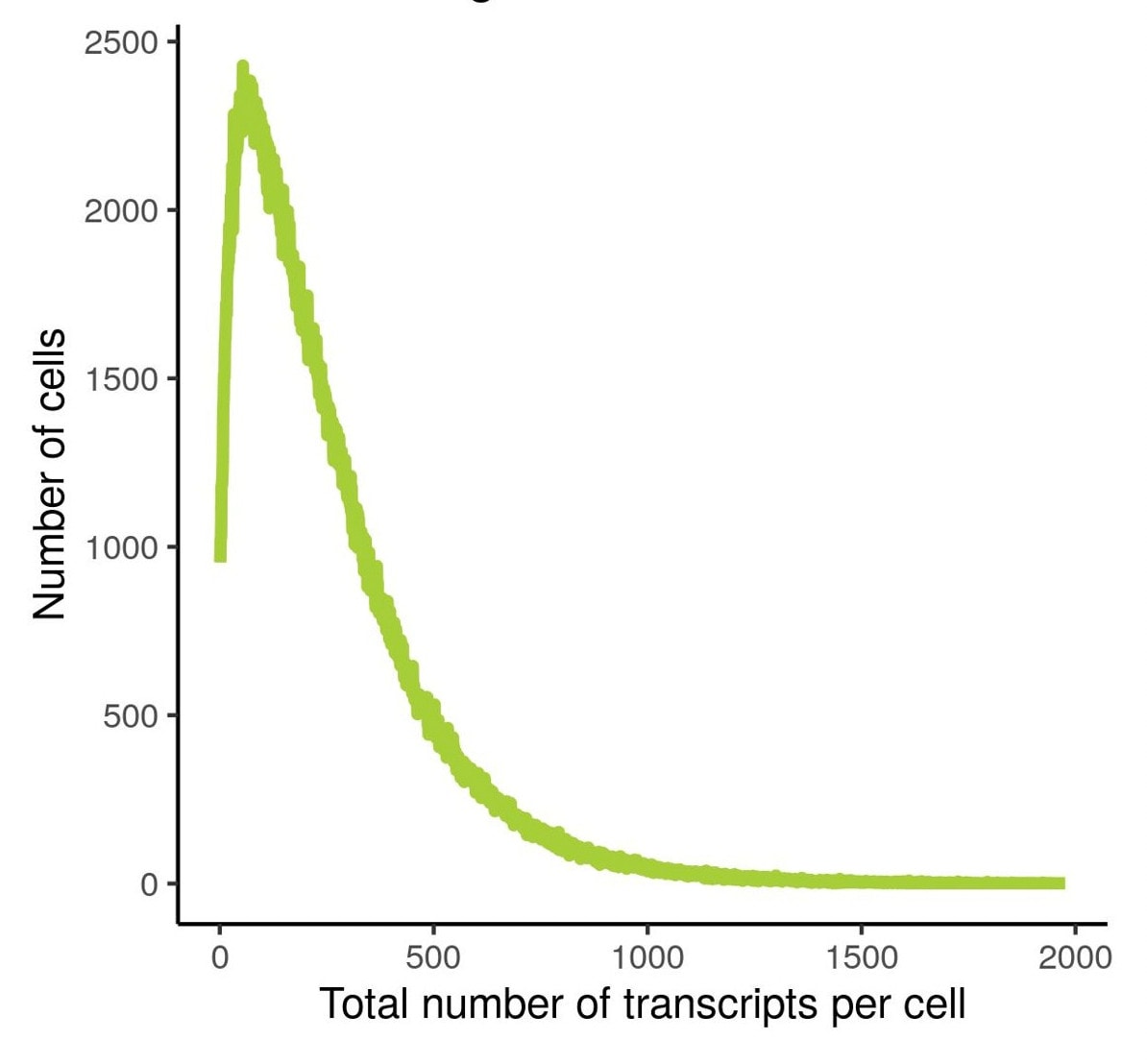 | Genes | Expression level | Copies per cell (Max.) |
| --- | --- | --- |
| MALAT1 | High | 256 |
| FOS | Medium | 40 |
| LY6D | Low | 24 |
Total number of cells analyzed = 800,327​
Total transcripts detected = 259,604,214​
Number of transcripts / cell (Max) = 2000​
Number of transcripts / cell (Mean) = 257
Shown here are the transcripts detected per cell in non-small cell lung cancer (NSCLC) FFPE tissue probed with a 1000-plex gene panel (left) and total transcript distribution in the NSCLC tissue (right). CosMx SMI offers high sensitivity and high dynamic range to capture low copy number gene transcripts at the single cell level.
True Single-Cell Segmentation
Multi-modal approach for true single-cell segmentation
Protein based morphology markers and nuclei staining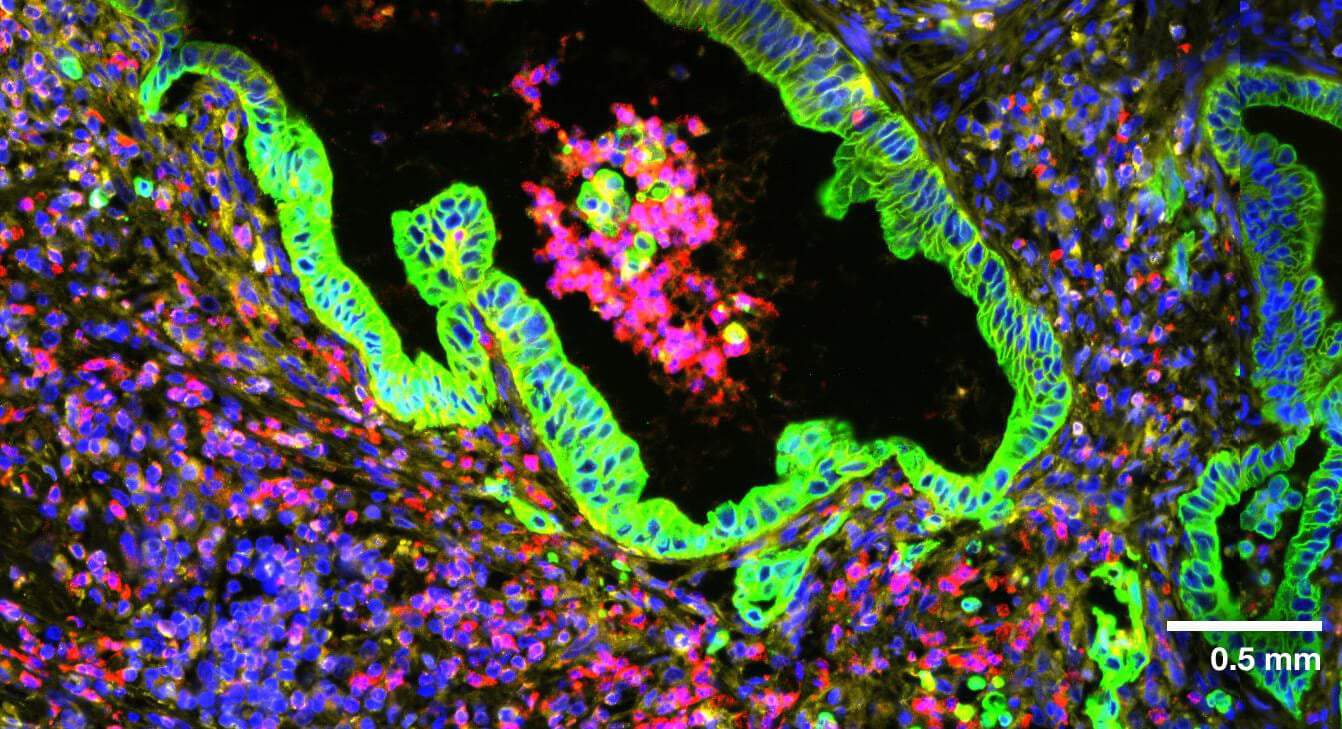 Probing RNA transcripts in intact tissue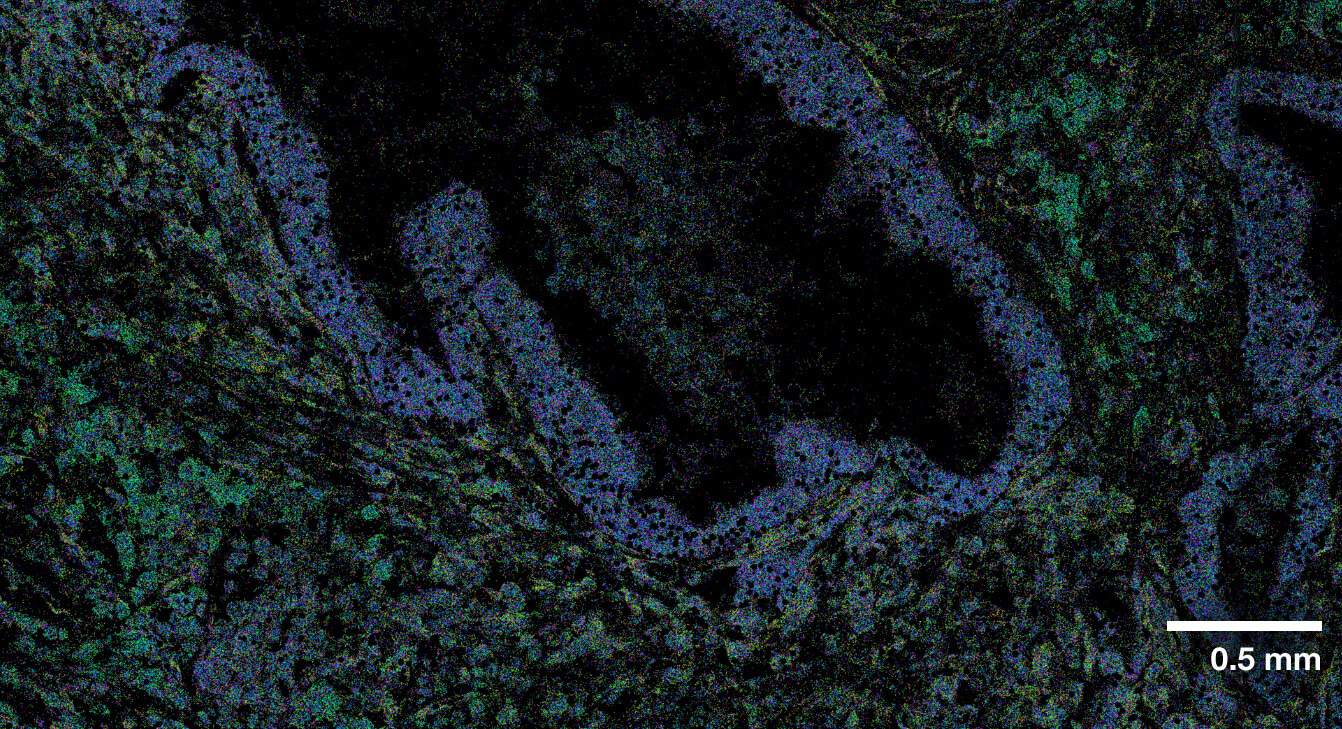 Cell segmentation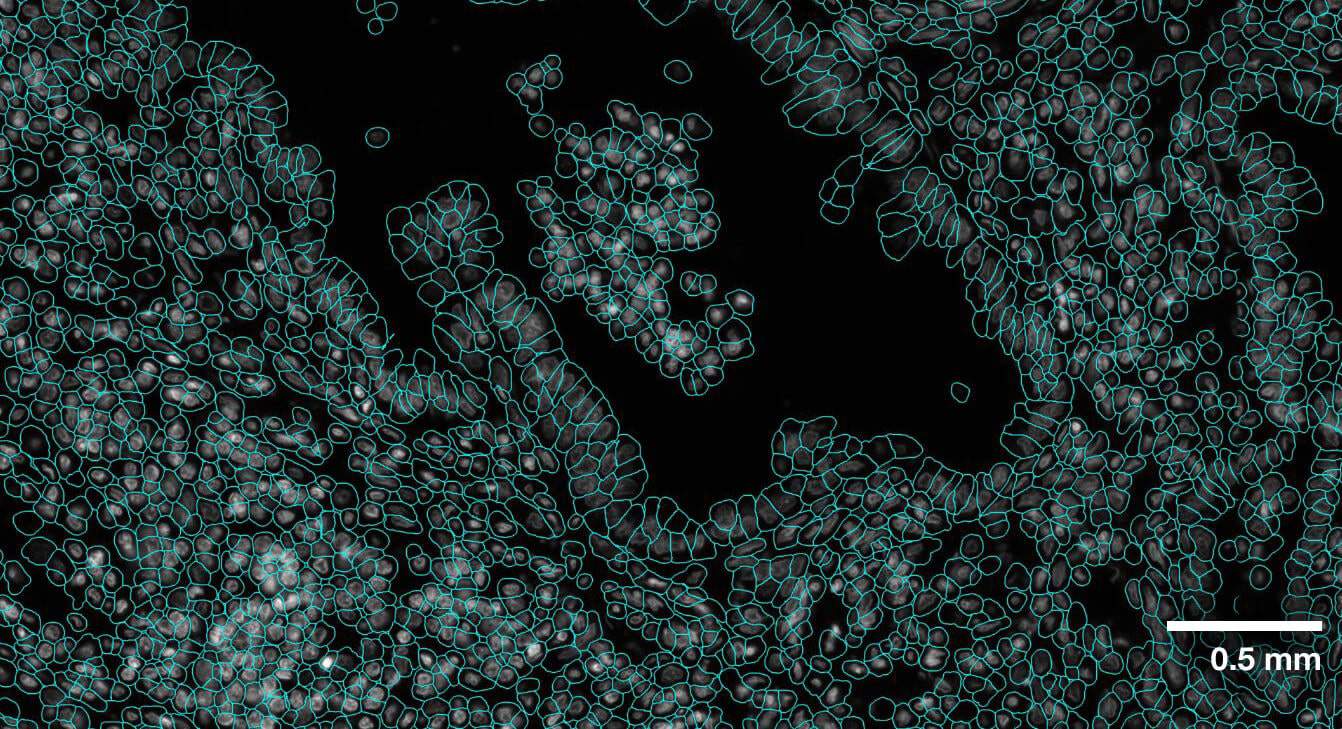 Multi-modal cell segmentation process provides accurate cell boundaries detection. CosMx cell segmentation uses cell membrane and morphology marker protein images, machine-learning augmented cell segmentation algorithm and transcript-based segmentation refinement to achieve precise single-cell segmentation in morphologically intact tissue.
Redefining Spatial Biology with Single-Cell Imaging and Subcellular High-plex 3-Dimensional Resolution
CosMx SMI is an integrated system with mature cyclic fluorescent in situ hybridization (FISH) chemistry, high-resolution imaging readout, interactive data analysis and visualization software.
Easy Sample Preparation, Compatible with Any Sample Type


Automated Cyclic in situ Hybridization Chemistry


Applications
CosMx Spatial Molecular Imager is the most flexible and robust spatial single-cell imaging platform for:
Cell Atlas and Characterization: Define cell types, cell states, tissue microenvironment phenotypes, and gene expression networks within spatial context.
Cell-cell Interaction: Understand biological process controlled by ligand-receptor interactions.
Spatial Biomarkers: Quantify change in gene expression based on treatment and identify single-cell subcellular biomarkers with spatial context.
Oncology
Neuroscience
Immunology
Infectious Diseases
Developmental Biology
Interested in learning more about CosMx SMI for Single-Cell Imaging?
Contact our helpful experts and we'll be in touch soon.
Contact us

Single-Cell Imaging FAQs