Targeted Content for Cancer Biology
The GeoMx Immune Pathways Panel is designed for targeted profiling of the tumor, tumor microenvironment, and tumor immune status.
Profile up to 96 RNA targets with spatial resolution from a single tissue section using the GeoMx Digital Spatial Profiler (DSP).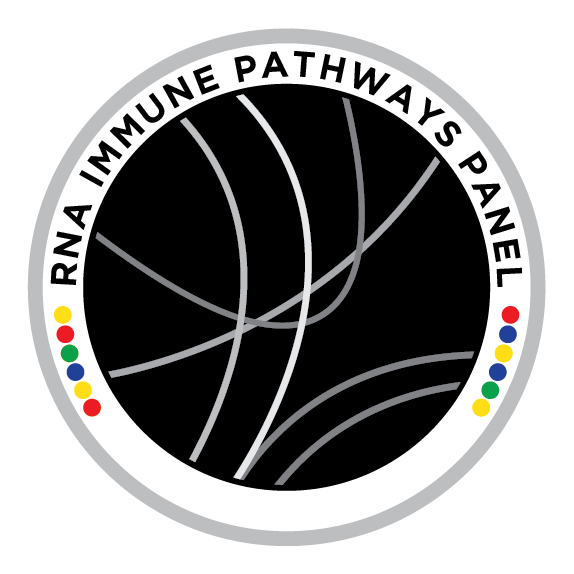 GeoMx® Immune Pathways Panel
About
The Immune Pathways panel contains 84 targets plus controls designed for broad coverage of the tumor and tumor microenvironment. GeoMx RNA assays contain in situ hybridization (ISH) probes conjugated to unique DNA indexing-oligonucleotides via a UV-photocleavable linker. After region of interest (ROI) selection on GeoMx DSP and UV cleavage of the oligonucleotides, each DNA oligonucleotide is recognized by a unique Reporter probe that contains a fluorescent barcode. Reporter probes are imaged and counted by the nCounter® Analysis System to provide a direct, digital readout of spatially resolved RNA expression.
Curated content designed for immuno-oncology research

Includes tumor and tumor microenvironment coverage plus the Tumor Inflammation Signature (TIS)

Pre-validated in multiplex format for use in human FFPE or fresh frozen tissue

Compatible with RNAscope® and antibody morphology markers for tissue imaging

Customizable with up to 10 additional targets of interest

For use with nCounter readout and compatible with DSP Data Center
GeoMx® Immune Pathways Panel
Curated Content for Immuno-Oncology
The GeoMx Immune Pathways panel is designed to profile key aspects of the tumor and tumor microenvironment biology.
Profile the global immune response
Assess microenvironment immune activity
Quantify tumor reactivity
Measure the 18-gene Tumor Inflammation Signature known to be associated with response to PD-1/PD-L1 inhibitor pathway blockade
Accompanying Morphology Marker Kits are available for tissue visualization and ROI selection.
Request a Quote
Contact our helpful experts and we'll be in touch soon.