The nCounter Autoimmune Discovery Panel is designed to enable researchers to discover links between known autoimmune disease associated germline variants and gene expression. The genes were selected in collaboration with leading autoimmune researchers and are linked to the top nine autoimmune diseases.
This panel is a Curated Gene List: application and pathway-specific content pre-designed and developed by NanoString available for custom ordering. You can add up to 55 gene targets to it with a "Plus" option to customize the panel to your research project.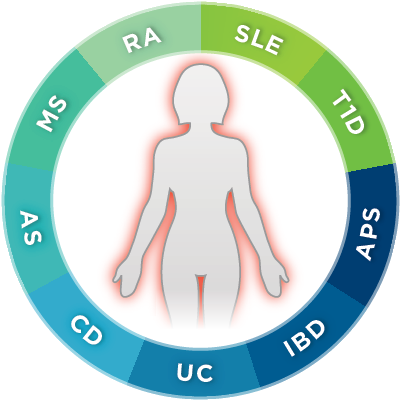 How it Works
The Human nCounter Autoimmune Discovery Panel is a 770-gene panel that provides analysis of the links between known disease associated mutations and gene expression changes, allowing researchers to identify new gene functions and to look at gene expression in response to treatment. Highlights of the Autoimmune Discovery Panel include:
01:
Discovery tool for disease-associated mutation gene function studies and biomarker characterization
02:
Comprehensive content associated with nine autoimmune diseases
03:
Gene expression profiling of immune response together with gene mutations
04:
Curated gene list available for custom ordering, customizable "Plus" option to add up to 55 user-defined genes
05:
Simple workflow, user-friendly, and efficient with just 15 minutes total hands-on time
Find the gene expression panel for your research with easy to use panel pro
Find Your Panel Panel Content
Coverage of Autoimmune Diseases
Disease-specific annotations for nine autoimmune disease types and human immune response genes were assigned across all genes in the autoimmune discovery panel, allowing for the identification of gene functions and signatures for all autoimmune diseases.
Request a Quote
Contact our helpful experts and we'll be in touch soon.