nCounter® Metabolic Pathways Panel
Quantify the expression of hundreds of genes involved in core metabolic processes and immunometabolism for human or mouse samples in a reliable, simple, and robust way using the nCounter Metabolic Pathways Panel. Understand the complex mechanisms behind metabolic adaptation, metabolic switching, metabolic alterations, and study changes in mitochondrial respiration and glycolysis.
The Metabolic Pathways Panel helps advance efforts towards novel therapeutic targets that take advantage of altered metabolism in cancer and other diseases. Get results in less than 24 hours from multiple sample types with a workflow that maximizes insight and minimizes turnaround time:
Quantify the presence and relative abundance of 14 different immune cell types for immunometabolism studies
Bypass RT and amplification by direct detection, yielding highly reproducible data
Process your samples with < 30 minutes hands-on time and get results in < 24 hours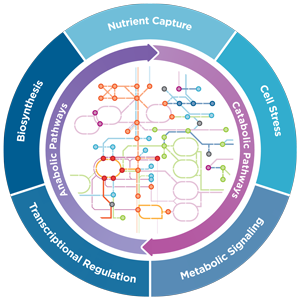 How It Works
The underlying molecular mechanisms behind alterations in metabolic pathways, signaling pathways, and cell stress can now be fully elucidated, giving you a complementary tool to traditional metabolite assays for profiling metabolic checkpoints and potential therapeutic targets.
Directly profile 768 genes in human or mouse across 34 annotated pathways involved in five important themes for metabolism research:
01:
Biosynthesis and Anabolic Pathways
02:
Nutrient Capture and Catabolic Pathways
05:
Transcriptional Regulation
Find the gene expression panel for your research with easy to use panel pro
Find Your Panel Gene Coverage Across Core Metabolic Themes
Gene Coverage Across Core Metabolic Themes