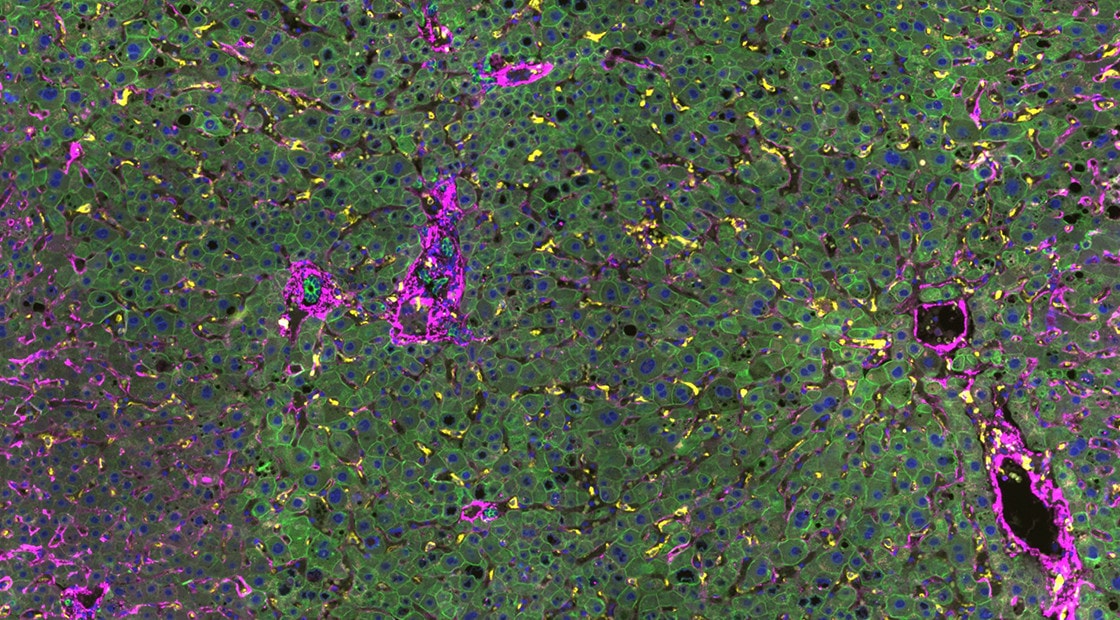 In-situ Estimation of TCR Diversity from FFPE Tumor Biopsies
Webinar
8:00 AM PDT/4 PM BST/5 PM CEST
2:00 PM SGT
Join us for our next global immuno-oncology webinar with our friends at Illumina and Genmab to learn how spatial transcriptomic profiling with the GeoMx® Digital Spatial Profiler can be used to profile in situ the estimation of T Cell Receptor (TCR) Diversity from formalin-fixed, paraffin-embedded (FFPE) tissue sections taken from tumor biopsies.
Sujash Chatterjee, PhD from Illumina will kick off the discussion with an overview of the capabilities to date for bulk TCR diversity analysis via sequencing and why integration of peripheral TCR diversity data with in situ, spatially-resolved data from tissue offers a unique and holistic view on the adaptive immune response to disease.
Katrina van Raay, PhD from NanoString will follow-up with an introduction to the spatial multi-omic capabilities of GeoMx DSP and the newest spatial transcriptomic assay for in situ estimation of TCR diversity, the GeoMx TCR Profiling Add-On. Learn how you can add on peripheral analysis of TCR usage in biofluids with the nCounter® TCR Diversity Panel.
To top off the webinar, Omar Jabado, PhD from Genmab will talk about how he and his colleagues used the GeoMx TCR Profiling Add-On assay in conjunction with the GeoMx Human Whole Transcriptome Atlas to estimate the in situ diversity of TCRs in tissue microarrays (TMAs) taken from 163 patient biopsies representative of colorectal, ovarian, triple-negative breast, and head and neck cancers.
In Partnership With

Register
Speakers
Sujash Chatterjee, PhD
Staff Segment Marketing Manager, Global Cancer Research Lead, Illumina
Sujash has over 18 years of experience in genomic profiling methods including microarrays/ RNA-seq, assay development, and molecular/ cell biology techniques. He currently is the Global Marketing Manager for Illumina's Cancer Research Segment team. Previously he has been part of development and marketing teams for NGS products focused on Biomarker Discovery, HT Single Cell Sequencing, and Microbial analysis in the biotech sector.
Katrina van Raay, PhD
Scientist, Research and Development, NanoString
Katrina is a Scientist on the Genomics Technology Team at NanoString. She received her Ph.D from the University of Washington in Biology, where she used experimental evolution to investigate the role of spatial organization and previous environmental conditions on a population's ability to adapt to future perturbations. Katrina is excited to be able to combine her love of spatial biology with NanoString's innovative technology.
Omar Jabado, PhD
Director, Genomics Precision Medicine, Genmab
Omar is currently the Director of the Genomics laboratory in the Translational Sciences group at Genmab in Princeton, NJ. The Translational Sciences team works in concert to combine flow cytometry, immune function assays, RNA profiling, immunogenomics and spatial biology to provide a deep phenotype of patients participating in Genmab trials. The resulting integrated datasets are used to identify pharmacodynamic effects, mechanism of action and biomarkers that predict response. Using the NanoString GeoMx® Digital Spatial Profiler, the team has been able to provide a cell-type specific profile directly from FFPE biopsies in tumor types where Genmab is developing therapeutics.