Inspired by systems biology approaches to cancer research, NanoString's 360 Series Panel Collection gives you a 360° view of gene expression by combining carefully-curated content involved in the biology of the tumor, microenvironment, and the immune response into a single holistic assay. Each panel contains the 18-gene Tumor Inflammation Signature (TIS) that measures a peripherally-suppressed, adaptive immune response and has been shown to correlate with response to checkpoint inhibitors.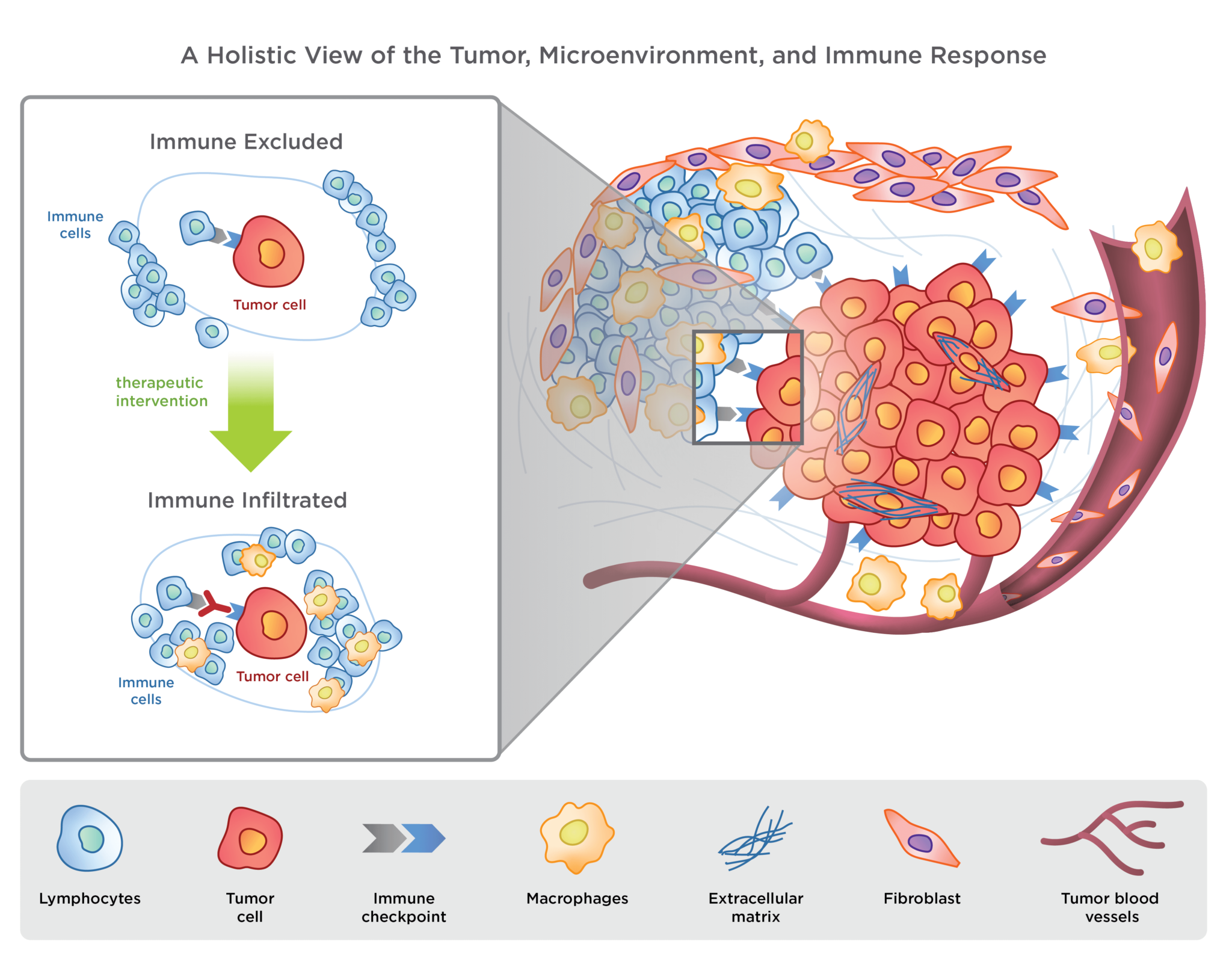 Ideal for studying solid tumors, the 360 Series Panel Collection can be used to better understand the biology behind therapeutic response, therapeutic mechanism of action, immune evasion, and the interplay between the tumor and microenvironment. These panels serve as powerful tools for developing novel signatures that correlate with response and/or survival.
1,588 unique genes included across all panels
PAM50, Claudin-Low, & Triple Negative Breast Cancer (TNBC) gene signatures included in the Breast Cancer 360 Panel
Data Analysis Service for the IO 360 and Breast Cancer 360 Panels provides interactive and customizable reports with signatures scores
Pairs with GeoMx® Cancer Transcriptome Atlas for comparative spatial RNA profiling Tumor Inflammation Signature
Selecting your panel
Fully-annotated gene lists in Excel format are available for each of the 360 Panels. The table below compares the biology coverage of the 360 Panels across the tumor, microenvironment, and the immune response to that of the PanCancer Panels Collection.
Tumor Inflammation Signature
The Tumor Inflammation Signature1 includes 18 functional genes often associated with the response to PD-1/PD-L1 checkpoint inhibitors. It is embedded into all of the 360 series panels: The PanCancer IO 360 Panel, the Breast Cancer 360 Panel, and the Tumor Signaling 360 Panel.
Includes four areas of immune biology: IFN-ү-responsive genes related to antigen presentation, chemokine expression, cytotoxic activity, and adaptive immune resistance genes.
Highlights the complex biology of the host immune microenvironment.
View publication and video.
1. Ayers, Mark, et al. "IFN-y-related mRNA profile predicts clinical response to PD-1 blockade." The Journal of Clinical Investigation 127.8 (2017).
Have questions or simply want to learn more?
Contact our helpful experts and we'll be in touch soon.
Contact Us