Biomarker discovery and signature development are essential for identification of novel therapies and for earlier detection and development of therapies for neurodegenerative disorders like Alzheimer's Disease (AD), Parkinson's Disease (PD), and Amyotrophic Lateral Sclerosis (ALS). The nCounter Neuropathology Panel helps perform comprehensive multiplex gene expression analysis in human or mouse samples with genes involved in six fundamental themes of neurodegeneration: neurotransmission, neuron-glia interaction, neuroplasticity, cell structure integrity, neuroinflammation, and metabolism.
Developed for research of Alzheimer's Disease, Parkinson's Disease, Amyotrophic Lateral Sclerosis, Frontotemporal Dementia, Huntington's Disease, and other neurological disorders
Includes unique cell typing feature for measuring the abundance of five important CNS cell types, including neurons, astrocytes, microglia, oligodendrocytes, and endothelial cells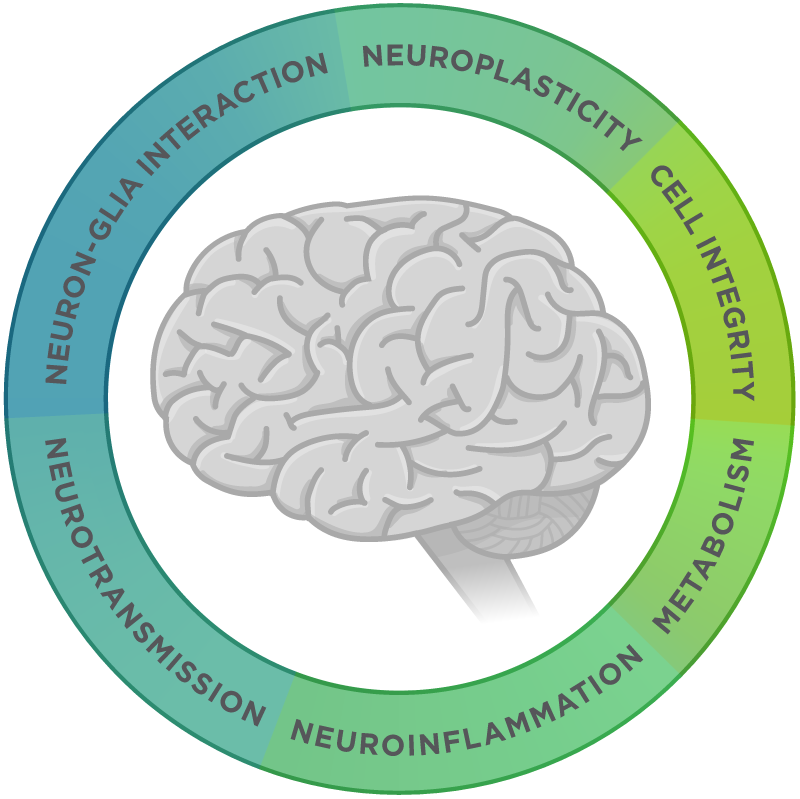 How It Works
nCounter Neuropathology Panels utilize NanoString's unique barcoding technology and the nCounter Analysis System to help accelerate your research.
01:
Screen 770 genes specific for neurodegeneration
02:
Comprehensively Assess 23 pathways
03:
Monitor progression of neurodegeneration
04:
Screen potential therapeutics
05:
Discover biomarkers and develop signatures associated with neurodegeneration
06:
Customize with up to 55 additional user-defined genes with the Panel Plus option
07:
Get data quickly with a streamlined, user-friendly, and efficient workflow with only 15 minutes hands-on time
Find the gene expression panel for your research with easy to use panel pro
Find Your Panel CNS Cell Typing
Genes included in the Neuropathology Panels provide unique cell profiling data for measuring the abundance1 of five important cell types including neurons, astrocytes, microglia, oligodendrocytes, and endothelial cells. The table below summarizes each cell type represented in the panels along with the gene content qualified through current literature references.
1Danaher P. et al. Gene expression markers of Tumor Infiltrating Leukocytes JITC 2017
Functional Annotations
Functional annotations for 23 fundamental pathways and processes were assigned across all genes in the Neuropathology Panels allowing for a practical view of important aspects of the onset and progression of neurodegenerative disease.
Request a Quote
Contact our helpful experts and we'll be in touch soon.