Cancer progression involves multiple processes and mechanisms that are highly interconnected. The nCounter PanCancer Progression Panel lets you perform multiplex gene expression analysis with 770 genes from each step in the cancer progression process including: angiogenesis, extracellular matrix remodeling (ECM), epithelial-to-mesenchymal transition (EMT) and metastasis.
Comprehensive gene expression analysis of cancer progression
Quantify gene expression of metastatic growth and suppressor genes
Rapidly and easily screen samples for biomarker discovery or drug mechanism of action to support your research
Customizable with up to 55 additional user-defined genes with Panel Plus option
Inspired by systems biology approaches to cancer research, NanoString's 360 Series Panel Collection gives you a 360° view of gene expression by combining carefully-curated content involved in the biology of the tumor, microenvironment, and the immune response into a single holistic assay. Each panel contains the 18-gene Tumor Inflammation Signature (TIS) that measures a peripherally-suppressed, adaptive immune response and has been shown to correlate with response to checkpoint inhibitors.
How It Works
Progression Panel Gene Coverage
The following is a pictorial description of the processes and key genes included in the PanCancer Progression Panel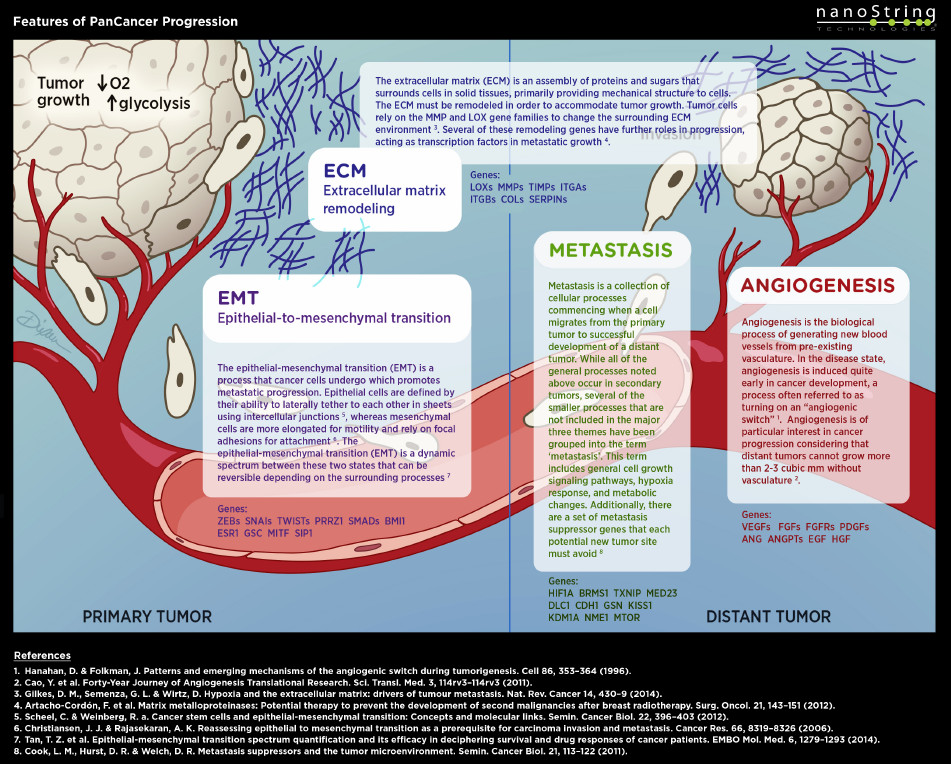 Find the gene expression panel for your research with easy to use panel pro
Find Your Panel Product Comparison
360 Series Product Comparison
Fully-annotated gene lists in Excel format are available for each of the 360 Panels. The table below compares the biology coverage of the 360 Panels across the tumor, microenvironment, and the immune response to that of the PanCancer Panels Collection.
Request a Quote
Contact our helpful experts and we'll be in touch soon.