Stem cell therapy is a rapidly advancing field with applications across a broad range of research areas including neuroscience, cardiology, autoimmunity, ophthalmology, and oncology. Deeply characterize and optimize your stem cell development with the nCounter Stem Cell Characterization Panel. This panel measures the eight essential components of stem cell biology. Evaluate viability, confirm functionality and determine pluripotency with a single robust, automated, and reproducible assay. Assess stem cell health during production and easily detect contamination to quickly optimize cell culture conditions and expedite your research.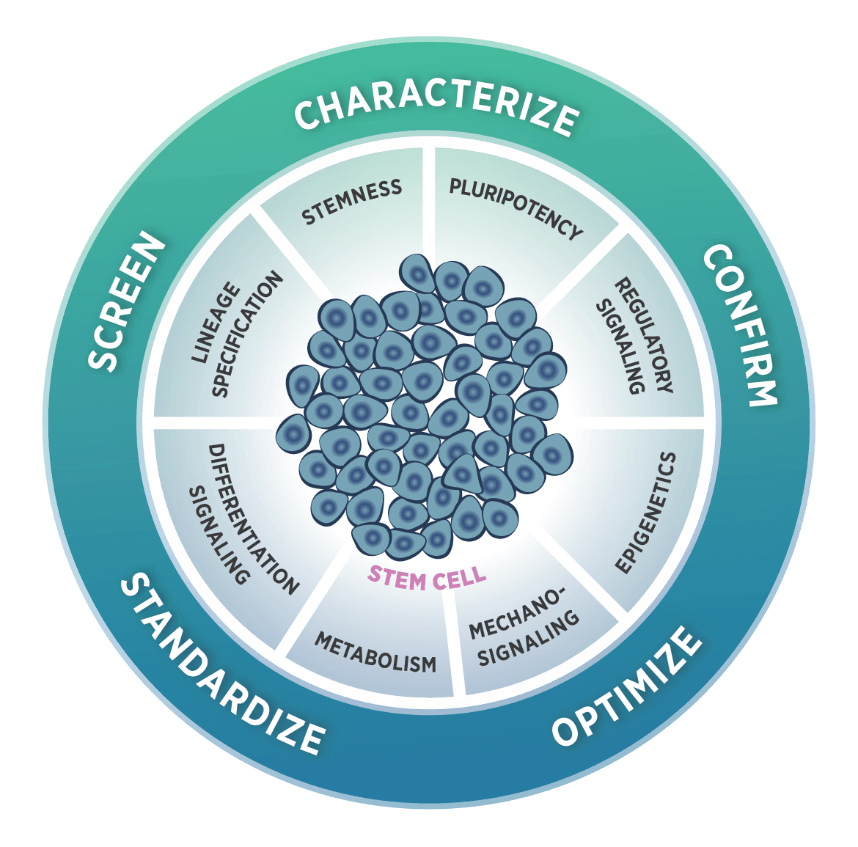 How it Works
01:
Directly profile 770 genes involved in stem cell biology
Stemness
Pluripotency
Regulatory Signaling
Epigenetics
Mechano-Signaling
Metabolism
Differentiation Signaling
Lineage Specification
02:
Characterize stem cells during development
Confirm pluripotency
Understand reprogramming failures
Assess activation/differentiation status
04:
Confirm expanded cell function via cell signaling and activation pathways
05:
Confirm cell viability after gene editing
06:
Detect mycoplasma contamination
07:
Generate data in 24 hours with less than 30 minutes hands on time and simple data analysis
Stem Cell Therapy Workflow
Culturing stem cells is a delicate art. The environment needs to be tightly controlled and the cells need to be checked at each stage to ensure that they are differentiating as desired. The Stem Cell Characterization Panel can be used throughout development processes to confidently characterize stem cells and understand pluripotency.


Contamination Detection
Mycoplasma is a common contaminant in cultured cells. Mycoplasma compete with stem cells for nutrients and can have a profound impact on global gene expression levels within the cells. The Stem Cell Characterization panel contains a probe to detect mycoplasma, allowing for quick and easy detection of culture contamination.
Customization with Panel Plus
Customize your research project by adding up to 55 user-defined genes of interest with nCounter® Panel Plus. Panel Plus capacity enables researchers to address areas like specific lineage interests, such as cardiomyocytes, neurons, retinal cells and beta cells.
Data Analysis
In addition to the standard nSolver™ Analysis Software, genes included in the Stem Cell Characterization panel are organized and linked to various advanced analysis modules to allow for efficient analysis of relevant pathways.
Advanced Analysis Modules available for Stem Cell Characterization:
Normalization
Quality Control
Individual Pathway Analysis
Differential Expression
Gene Set Analysis
Built-in compatibility for Panel-Plus and Protein analysis
Data can also be analyzed using ROSALIND®. ROSALIND is a cloud-based platform that enables scientists to analyze and interpret differential gene expression data without the need for bioinformatics or programming skills.
Rosalind Guided Module available for Stem Cell Characterization:
Normalization
Quality Control
Individual Pathway Analysis
Differential Expression
Gene Set Analysis Signatures/Pathways
Panel Annotations
The Stem Cell Characterization Panel provides a comprehensive view of a stem cell's life cycle. Probes cover all eight essential components of stem cell biology.
Request a Quote
Contact our helpful experts and we'll be in touch soon.