Gene Expression and Data Analysis Tools: A Cali Core Facility's Story
Blog
Gene Expression and Data Analysis...
Laura Tabellini Pierre on
August 16, 2021
ROSALIND is a cloud-based gene expression and genomic data analysis tool designed for life scientists.
In October 2020, NanoString® Technologies and ROSALIND announced a partnership to grant global access to the ROSALIND® Bioinformatics Platform for all nCounter users.
Among the users, the Sanford Consortium for Regenerative Medicine at the University of California San Diego (UCSD) is a hub for basic stem cell research in the United States. Located in beautiful La Jolla in San Diego, it sits in front of the Pacific Ocean surrounded by trees and a vibrant scientific community.
Meeting with Elsa Molina, PhD. was a pleasant surprise: her sunny personality is contagious and her passion for science and commitment to supporting cutting-edge research projects is exceptional.
Elsa runs the UCSD Stem Cell Genomics and Microscopy Core at the Sanford Consortium. The facility provides high-throughput genomics and imaging services, training, and data analysis support to UC San Diego affiliates as well as off-campus researchers and private companies. Among their offerings are the NanoString nCounter® MAX Analysis System and the ROSALIND Bioinformatics platform. ROSALIND is a user-friendly, cloud-based software that allows scientists to easily analyze, visualize, and interpret genomic data.
We asked Elsa about her and her customers' experience using ROSALIND to analyze nCounter data.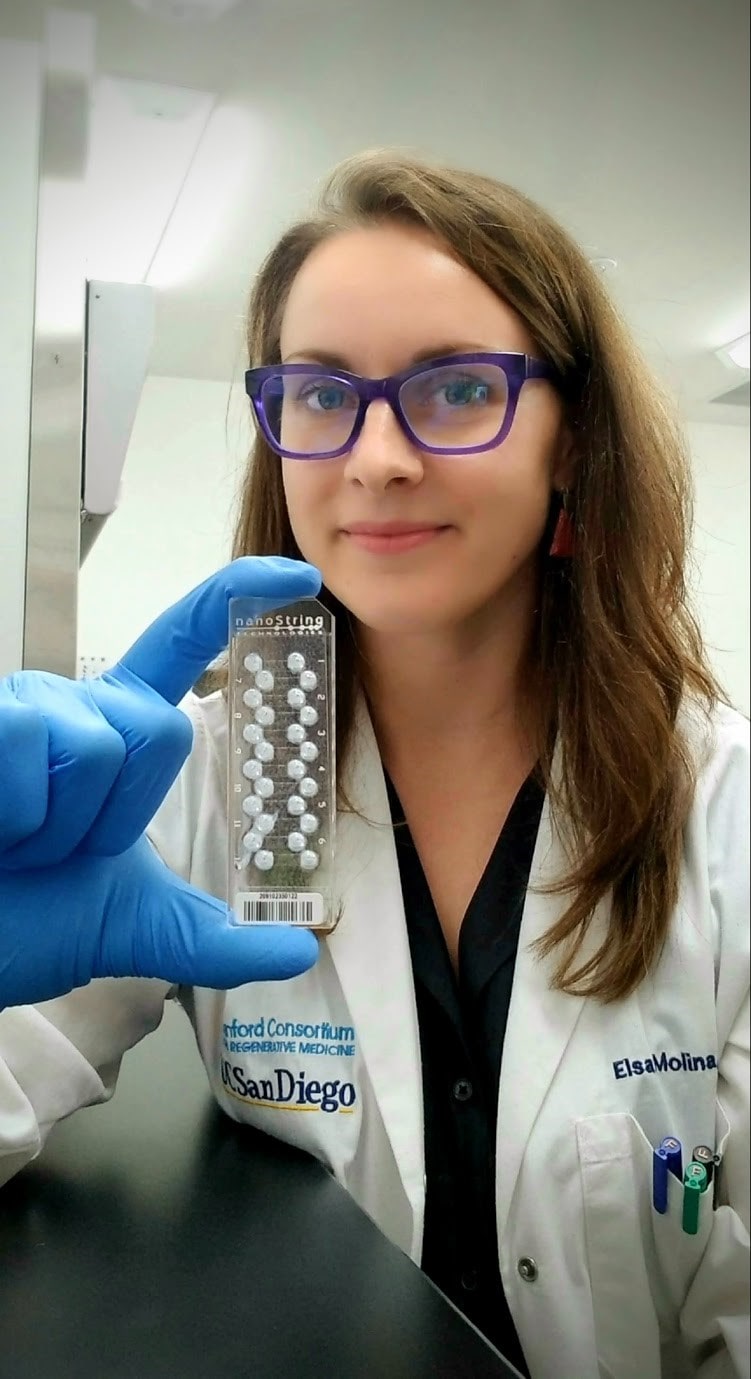 Commitment to Service at the Core of the Facility
NSTG: What is the business model for the Stem Cell Genomics and Microscopy Core? Are you a full-service core lab? In other words, do you analyze data for customers in addition to running experiments for them?
EM: We do both self-service and full service: the core provides mostly full service with researchers dropping off their samples; we then run the samples and analyze the data for them.
In specific instances, I train customers to use some of our instruments and have 24/7 access to the core. Those who study rare human samples from surgeries end up running their experiments late at night.
For NanoString gene expression assay, I train users for the hybridization step and then, provide full-service for the run on the nCounter MAX instrument. For data analysis using ROSALIND, I work more as a collaborator: I can provide full service for the project and analyze the data or train them to use the software and run the analysis themselves.
NSTG: How did you first come across NanoString and the nCounter platform?
EM: When I first joined the Sanford Consortium, NanoString was demoing the platform in the core. When I realized all the instrument's capacities and the need for this type of technology for the research teams in the building, I encouraged the business manager to purchase the instrument.
NSTG: What kinds of nCounter panels do your customers typically use?
EM: To date, we have been running more than 35 different panels, custom panels included. We are a consortium serving scientists from UCSD, the Salk Institute, the La Jolla Institute for Immunology, the Sanford Burnham Prebys Medical Discovery Institute, and the Scripps Research. Our customers run samples from humans, mice, rats, and even plants. We run both off-the-shelf and Custom CodeSets.
Bioinformatics' Grade Data Analysis Tool for the Life Scientist
NSTG: How did you first come across the ROSALIND Platform? What intrigued you about it to make it the nCounter analysis platform for the core lab?
EM: I have to thank the ROSALIND Chief Scientific Officer Jean Lozach: he showed me the platform couple of years ago, and all it could do. As this was what every scientist dream of, I was amazed that this truly worked. This platform was what everyone has been waiting for.
A powerful analysis tool such as ROSALIND enables teams of scientists and researchers to collectively explore and uncover insights in datasets. Moreover, ROSALIND is intuitive and very well designed: super user-friendly, very fast to analyze data with powerful graphics. It has the same layout whether you analyze data from NanoString, RNA sequencing (RNA-seq), or single-cell RNA sequencing (scRNA-seq). Plus, you don't need to be a bioinformatician to use it, and as scientists are frequently not bioinformaticians, this was undoubtedly what we were looking for.
NSTG: How is ROSALIND different from other platforms for analyzing sequencing and gene expression data?
EM: Let's take other analyses solutions as an example: you need to install the software and download files before using it. On the other hand, ROSALIND is cloud-based: no need to download anything, and it doesn't take space in your computer; results are easily shareable across platforms and operating systems. And it is straightforward: there are no separate tabs to visualize different analyses and graphs; they are all on the same page for a clearer view.
In summary, ROSALIND utilizes Enterprise Knowledge Graphs to power some of the large pharmaceutical teams today with secure collaboration and multi-omics data visualization. These are fundamental best practices that can benefit every scientific organization.
Gene Expression Analysis and More
NSTG: Do you use ROSALIND for data analysis from any other platforms besides nCounter?
EM: Yes, I use it also to analyze RNA-seq, ChIP-seq, and scRNA-seq.
NSTG: What kind of feedback do you get from customers after switching over to using ROSALIND to deliver results from nCounter experiments?
EM: They love it! I always recommend they contact me if they have any issues, but I never hear back. When I run into one of my users and ask how the project is going, the answer is that it is going great, data analysis is so easy that they were able to do it on their own and didn't need to contact me. That's why I never hear from them!
Furthermore, when they use the ROSALIND data analysis tool for NanoString nCounter data – which is free of charge – they later contact me to buy the analysis units for RNA-seq, miRNA, and scRNA-seq, since I also work with these techniques in the core lab.
NSTG: What do you like most about using the NanoString nCounter instrument?
EM: It is reliable, accurate, and the panels NanoString provides are so diverse. I like that users can target exactly what they need for their research. The panels have the right number of genes for targeted gene expression.

Why Gene Expression Analysis with ROSALIND Data Analysis Software?
NSTG: What advice would you give other researchers considering using ROSALIND as a data analysis tool for their nCounter data? What features of ROSALIND would you highlight to them?
EM: To NanoString customers, I would recommend using it because of all the features ROSALIND provides for NanoString data analysis: it's fast and more intuitive compared to other solutions. Furthermore, once they have analyzed data with ROSALIND, should they decide to do another type of assay, like RNA-seq or ChIP-Ssq or scRNA-seq, they can compare the results with their NanoString data by running the meta-analysis feature on ROSALIND.
NSTG: Last question: we usually close our blogs with a fun question for our readers. Is there anything fun, quirky, or unique about the lab that you want to share with our readers?
EM: I am now known as the NanoString person, even if I do not work for NanoString! A lot of people told me I should wear a badge. I truly appreciate the NanoString technology since when my customers use it, they are always satisfied with the results. So now, of course, I encourage them to use ROSALIND as I want them to have an even better experience with NanoString.
And now on campus, I have also started to be the ROSALIND person! A few weeks ago, someone contacted me saying that they heard I know the ROSALIND platform and were seeking my help to analyze data! I am glad to see every day more and more scientists using this great bioinformatics tool that is ROSALIND, and I look forward to seeing what ROSALIND can bring even more for biology in the future!
For Research Use Only. Not for use in diagnostic procedures.
Post by
Laura Tabellini Pierre