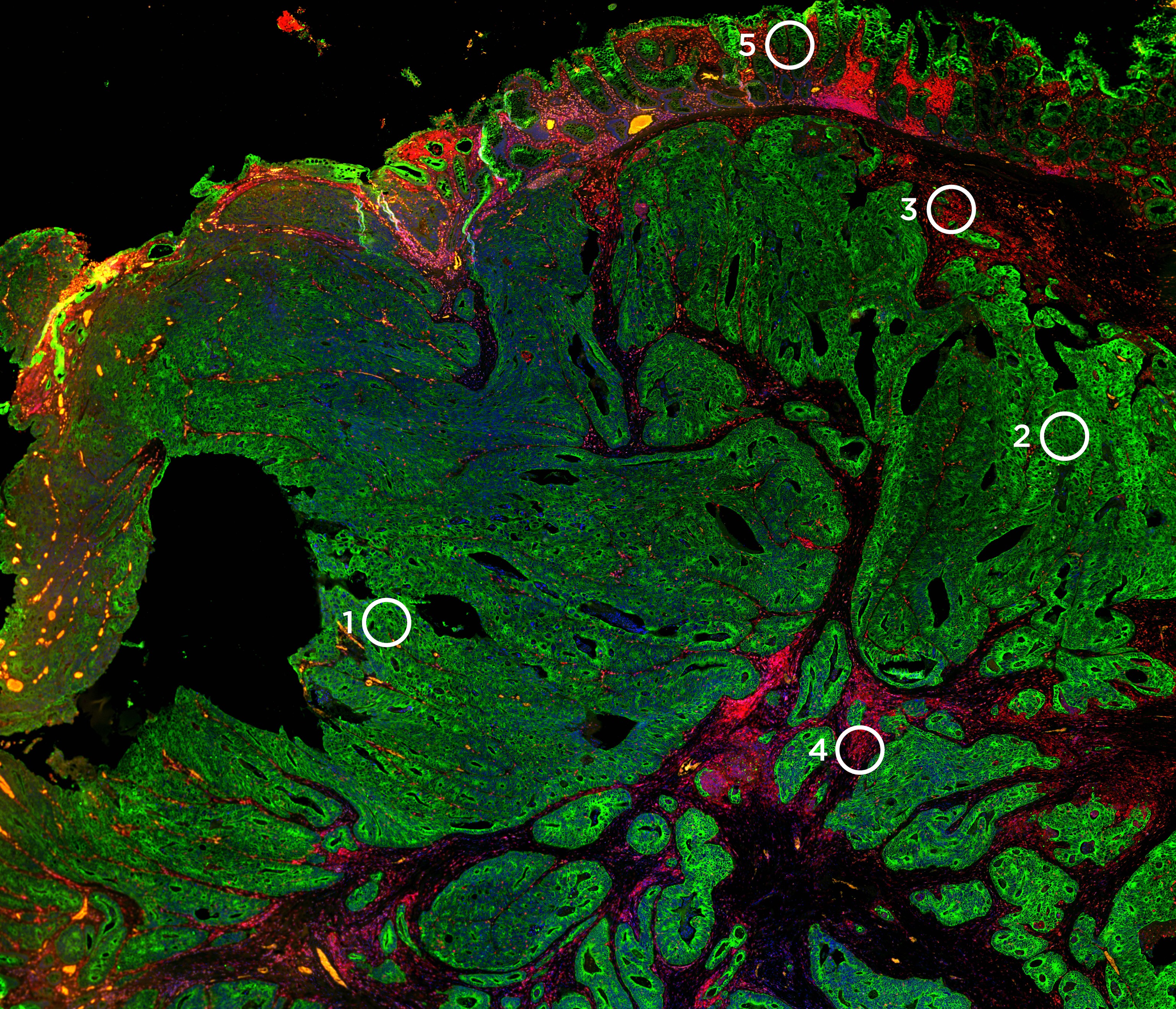 Laura Tabellini Pierre on
February 17, 2020
Functional annotation of gene and protein expression is a crucial step in deciphering cellular mechanisms. Traditional transcriptomic and proteomic assays are done in bulk, where RNA and proteins from different locations in the tissue are pooled and quantified together. However, the relationship between gene and protein expression and disease state can be highly dependent on location; this relationship is lost if you treat highly specialized tissue compartments and cells as one bulk sample. The spatial context of gene and protein expression is essential to gain a deeper understanding of normal biological function and disease on the same length scale encountered by biomolecules.
NanoString is at the forefront of the discovery, design and creation of innovative tools that change the way scientists approach their most difficult questions, and 2019 was the year we kick-started the spatial revolution with the GeoMx™ Digital Spatial Profiler (DSP).
Scientists all over the world who have used GeoMx DSP love it and shared their discoveries with us and their colleagues at seminars, conferences, and webinars. In fact, GeoMx DSP was featured multiple times in our blog during 2019. These are the top 5 most read blogposts that featured GeoMx DSP.
Spatial Profiling Using the GeoMx RNA Assay for the Robust Identification of Novel Biomarkers and Early Detection of Melanoma.
In melanoma, spatially resolving and profiling specific cell types within skin tissue offers the opportunity to resolve ambiguity associated with traditional histology-based assays.
In the webinar Cell Biology 2019, Dr. Margaret Hoang, Ph.D. explained how the GeoMx DSP technology enables spatially resolved mRNA and protein analysis, and how users can achieve reliable, reproducible analyses of FFPE tissue samples.
Maija Kiuru, M.D, Ph.D., Director of Molecular Dermatopathology at the University of California, Davis presented data on the identification of cell type-specific RNA biomarkers from four melanocytic tumors types using GeoMx DSP. She went on and verified the findings with patient samples, showing that each tumor type may have a distinct molecular signature.
Read more about the extraordinary capabilities of the GeoMx Digital Spatial Profiler in this blog.
A Systematic Evaluation of Immune Response and Plaque Microenvironment Variation in Alzheimer's Disease
Alzheimer's Disease (AD) is a complex disease with defining histopathological features: amyloid-beta plaque deposition and tau protein aggregation in the human brain. Gene expression analyses performed in bulk tissue is not enough to resolve the spatial relationship between plaques, tangles and their immune microenvironment.
Stefan Prokop. M.D., from the University of Florida highlighted in a webinar the role of central nervous system immunity in late-onset AD. Dr. Prokop's systemic approach to disease complexity included the use of the GeoMx DSP; he characterized 40+ protein targets that revealed altered composition of the plaque microenvironment. The nCounter® Neuroinflammation and Neuropathology gene expression panels corroborated the findings and further elucidated pathophysiological pathways underlying the late onset of AD.
Read here for more details on the complex pathogenic interaction between the innate immune system and plaque microenvironment in late-onset AD, or listen again to the webinar.
Experts Discuss Digital Spatial Profiling in Immuno-Oncology
Digital spatial profiling is redefining the concept of precision medicine in immunobiology, as highlighted in last year's GeoCast and summarized in this blog. Key opinion leaders from some of the most esteemed institutions worldwide gathered together to share their discoveries enabled by GeoMx DSP.
The high-throughput technology enabled by GeoMx DSP captures and integrates spatial information such as morphological details and cell interactions, enhancing the resolution of gene/protein expression and and generating a more comprehensive depiction of the complex and heterogeneous landscape within a tumor and its surroundings.
This blog is a real treat to read, validated by the fact that it was the 3rd most-read DSP blogpost. Read here what Omer Bayraktar, Ph.D., from the Wellcome Sanger Institute, Jon Zugazagoitia, M.D., Ph.D., from Yale University School of Medicine, E. Aubrey Thompson, Ph.D., from the Mayo Clinic, Sergio Rutella, M.D., Ph.D., from the John van Geest Cancer Research Center at Nottingham Trent University and our very own Chief Scientific Officer and Senior Vice President of Research and Development Joseph M. Beechem, Ph.D. have to say about the game-changing GeoMx DSP.
Q&A with Trieu My Van, Ph.D. from the Netherlands Cancer Institute.
Conservation of precious biopsied tumor tissue becomes paramount because there is a limited amount of tissue taken during a biopsy. The GeoMx DSP platform allowed Dr. My Van to reuse Formalin-Fixed, Paraffin-Embedded (FFPE) samples for further DSP or H&E/IHC analysis. She was surprised by the amount of information the GeoMx DSP helped her generate from one single FFPE slide.
Read here Dr. My Van's thoughts about GeoMx DSP.
Q&A with Stefan Prokop, M.D. – Alzheimer's: From the Amyloid Hypothesis to the Cellular Phase and Beyond
Another Q&A blog! Our readers are truly interested in the results obtained by neuroscientists using GeoMx DSP and our neuroscience gene expression panels in decoding the complexity of AD; the 5th most read DSP blog was an interview with Dr. Prokop, whose webinar and the blog that summarized it were a true hit in 2019.
Dr. Prokop's work is focused on AD with a specific interest in the role of the immune system in AD pathogenesis and progression. In his interview, Dr. Prokop talks about his interest in the innate immune system in AD pathogenesis and progression, in both mouse models and humans, and why he thinks that the immune system will be a powerful ally in combating neurodegenerative disease.
Enjoy here the interview with Dr. Prokop.
Post by
Laura Tabellini Pierre